21:20 Friday 4 Aug 2023 Sue Pelling

Cowes Week final day round-up and overall winners announced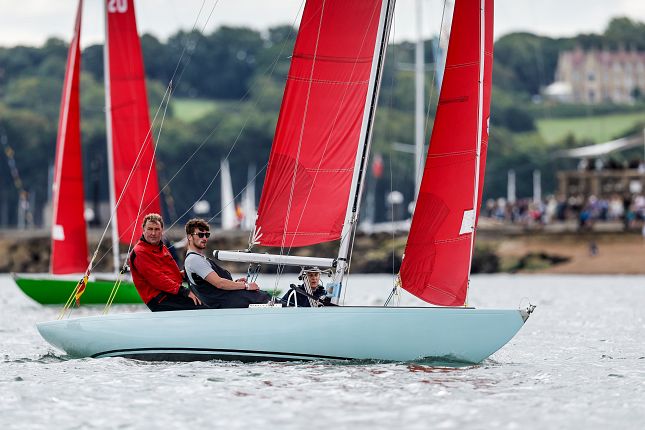 Cowes Week 2023 finished on a high note today with a northwesterly breeze between 7-12kts allowing all classes to enjoy a glorious day of tactical racing. With so much to play for in what turned out to be a no-discard series (as a result of two days of abandoned racing due to high winds), not only was there plenty of inter-class rivalry, with results going down to the wire, but also with the Black and White Groups, and the overall Cowes Week winner to be decided.
Given the testing light winds and strong Spring tides today, the race committee led by Laurence Mead (Race Director) managed, as far as possible, to set courses to suit each class. And as a final showdown, all classes, except for the XODs, were treated to a Royal Yacht Squadron-line finish.
Back on shore in Cowes this afternoon there was the usual air of excitement among competitors as the much-anticipated results came through announcing the winners of the top prizes. Mark Downer and family sailing the Redwing Enigma not only won White Group but with an impressive and consistent set of results throughout the week, which included four firsts, and one second place, they were also deemed overall winners of Cowes Week 2023.
Mark Downer, who's been racing at Cowes Week for 24 years and who this week raced with his wife Jo and son Alex, said they are ecstatic to have finally won: "We have been competing for 24 years and have never even won our class. It feels as though we have been the bridesmaid for so long and now, we finally get to wear white! We've been competing in the Redwing for three years starting with third place then second place and now finally first place. It feels absolutely amazing."
Commenting on the conditions this week, Downer added: "It has been a tricky week and losing two days of sailing was especially hard, but we knew that it was make or break today and we just feel so happy that it's finally our time. It was pretty tricky out there today especially with the tides. We also had a large container ship coming through the fleet, which made it harder for the fleet as it affected the boats ahead and behind."
In equally testing conditions today there was all to play for in Black Group but after another stunning performance in the light airs today, local hot-shot Jo Richards and his seasoned team including David Rickard, Duncan De Boltz and Sophie Warren on Woof – a 1972-built modified H-Boat – were deemed the overall winners by a narrow margin from Per Roman's JPK 1180 – Garm.
This is not the first time Richards has won at Cowes Week. As well as numerous class wins over the years, he has also won Black Group twice before. A delighted Richards chatting about his win, as he de-rigged his boat this afternoon, said: "We are absolutely delighted to win Black Group again. It was, however, a tough week and exceptionally tiring with the big winds throughout. We were actually rather grateful for the odd day off this week. Today was tricky and we had a bit of a battle on, so had to be ultra conservative at the start given the fact there were no discards. The key today was to keep in the pressure and be on the right tacks because it was very shifty, and it was easy to lose out by being in the wrong place."
Elsewhere today in classes such as the Squib it was a case of sailing safely to secure positions at the top of the fleet. Although Jono Brown and Chris Agar on their 1971-built Lucky Counts had a clear run of first places throughout the week with Steve Warren-Smith lying second in Aquabat, they couldn't afford a poor result. Another first place today, however, was enough to secure an overall class win for Lucky Counts.
IRC 4 has seen a real mix in performance this week with four different winners including some Cowes Week regulars including Peter Rutter's Half Tonner Quokka 9, David Greenhalgh's J/92 J'ronimo, Jon Powell's SJ320 Betty, and David Murrin's Laurent Giles pretty, classic sloop Cetewayo. Cetewayo also won today's light airs race but, the overall winner with a consistent string of results was Quokka 9, with Harry Heijst's S&S 41 Winsome in second place overall.
It was all change in the Seaview Mermaid class today with Steven Stewart's Zara taking today's win while Ben Few Brown's Bluebell finished sixth. In the overall scoring this allowed Charles Glanville's Jade with a final race third place to take over the leading spot for the overall class win.
Other popular winners among presentations this evening included identical triplets Charlie, Thomas and Harry White who, sailing their Squib Kestrel, won the Montgomery Estate Planning Under 25 Trophy for the second year running. Kai Hockley won the Musto Young Skipper's Trophy for his performance helming Palava an Etchells, while the best female helm award for the Ariel Trophy went to Grace Cecil-Wright.
Finally in his closing note as Cowes Week Director, Laurence Mead summed up the week: "Although it is my last day as regatta director running racing at Cowes Week, I'm happy that we made the most of the week, and I hope the competitors enjoyed it. There's nothing you can do in my position when it's 35 gusting 40kts but we got people out racing even in some pretty heavy air conditions at the start of the week and made the most of Thursday and Friday in unstable north-westerly winds. I think everybody had a classic week of Cowes Week regatta racing. It is not a world championship, it is nearly 500 boats enjoying a great week of competitive boat racing on the Solent, racing against respected competitors in a ferocious, but friendly way!
"I will miss being part of the regatta team. My huge thanks to everybody who is part of that team. It couldn't happen without a mass of volunteers and lots of knowledgeable, passionate supporters. Thanks to the competitors for turning up every year for what is, I think, one of the greatest regattas in the world."