18:22 Tuesday 1 Aug 2023 Sue Pelling

Cowes Week Day 4 round-up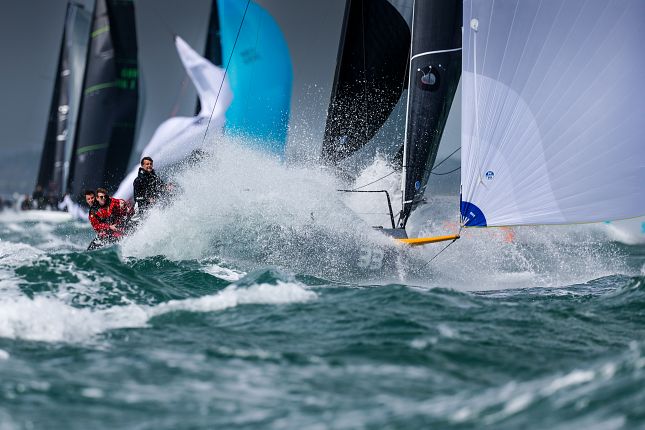 Celebrations started early today when competitors were greeted with classic Cowes Week conditions of sunshine and winds ranging from 18-22kts, which led to another bracing day on the water. It was also Women's Day, which as always at Cowes Week, was well supported with female teams competing across most fleets.
The idea of Women's Day is to highlight the huge impact women have at Cowes Week and to inspire others to take part. With much to play for therefore, including the Mermaid Trophy for the highest placed female crew, the Ariel Trophy for the highest placed female helm, and the Women's Day Trophy, competition was intense throughout the day.
While the Cape 31s and the big boats in Black Group headed upwind to race in the western Solent, most other classes enjoyed challenging downwind starts out to the east and in the mid Solent. The conditions couldn't have been more ideal for the Royal Yacht Squadron line starts, which produced a spectacle of colourful mass spinnaker bursts as each start got underway.
In the full-on conditions out to the west, the Cape 31 fleet completed its short series with Sandra Askew and team on the USA-flagged Flying Jenny confirming their dominance of the fleet with another race win, which was enough for them to take the overall trophy. Christian Schwoerer and team on La Pericolosa had a good race finishing second today but second overall with 16pts was Niall Dowling's Arabella.
First off at 1030 was the J/70 class racing the last two races of its four-day short series so there was all to play for. Female teams including Aurora Sillars and Perdy Light's all-female crew on Valkyrie and Ella Brown helming XOXO enjoyed a fun day on the water but it was Martin Dent and crew on Jelvis who notched up a 1,5 scoreline today, while Jelly Fish sailed by Finley Adam Dickinson and team was the other race winner of today's two races. However, the overall star of the show was Paul Ward's Eat, Sleep J Repeat team, who ended the series in first place overall, four points ahead of Jelvis.
Dent chatting about the close racing in the J/70 class said: "It's been an absolute fantastic week, and the conditions couldn't have been better for this exciting, competitive class. It's been so close with just one point separating boats throughout the series. The fleet here at Cowes was made up of a mix of regulars and charter boats. We think the charter idea works really well because it allows an opportunity for others to come and race in this brilliant fleet."
The Sonar class is enjoying a competitive week too, and today's racing was no exception. David Peerless and team aboard Miscreant were leading overall going into today's race, but the situation has changed today with another couple of front runners taking the top places.
Ruby Sunderland, who was just 16 yesterday flew the flag for women sailors today. Her and her team aboard Cowes Match Racing who already have a 2,5 scoreline from the first two days, sailed impressively once again and finished second to Alistair Barter and Richard Bailey in Bertie who won the race. Commenting on her second place today, Sunderland said: "We were a bit late with the timing on the downwind start but managed to gybe off and get a clear lane downwind and rounded the leeward mark in sixth place. The next leg was where we really made some tactical gains. I think the key for us was managing to get in the tide. At the top mark we were up to fourth place and it just got better from there on."
As always, racing within the Contessa 32 fleet is red hot with the leading two boats Andaxi with Donna Rouse-Collen at the helm, and Eldred & Mark Himsworth, and Roger Shapland's Drumbeat going into today's race on equal points at the head of the fleet. In today's testing, tactical conditions it was Drumbeat who stole the show and took today's race win to add to their opening day win. They had a good start at the pin end of the line and soon extended their lead on the sleigh ride out to the eastern Solent. Eldred Himsworth talking about today's race said: "Thankfully we ended up on the startline, at the pin end, exactly where we wanted to be. We had a bit of a tussle with Keith and Jo Sammons on Carinosa, but we managed gain by sticking in the favourable tide and led at the first mark. From there on it was a bit of a procession, although having said that, there was no time complacency."
Another team flying the flag for women with an all-female crew today (in the Contessa 32 fleet) was the Coh Karek team headed by French Skipper Marion Engelhard with her international team which included Marjoleine Hulshof (Holland) and Harriet Brown. Tim Devlin, Commodore of the Island Sailing Club, who owns the boat, said male members of the crew have been swapped onto other boats or given the day off. "This club is serious about promoting sailing, and I want to promote women's sailing in particular, so this was a great opportunity," he said.
In the 14-strong IRC3 fleet the point's margin is slim but Brita Van Rossum on the HOD35 Zarafa was leading going into today race. This team, which took third place at the European championship last year, is on top form but today it was John Smart and team on the J/109 Juke Box who sailed a smart race to take top spot from Ed Mockridge and team on Elaine Again (JPK1010).
Gavia Wilkinson-Cox and her all star crew aboard Jerboa including another female sailor Abi Tuttle showed their true colours today in the Dragon class with an overall win, breaking Martin Payne and team's domination of the fleet so far this week aboard True Story. Wilkinson-Cox said she was delighted: "Super pleased because it was in my new boat, so a first win at Cowes in that, plus, as the organiser of the forthcoming Dragon Edinburgh Cup 75th anniversary here in Cowes in a couple of weeks, I am delighted that this week is turning out to be a good warm up."
Back on shore, Women's Day celebrations continued this afternoon with the Royal Thames Yacht Club's Women Who Rock The Boat party at Commodores House.
To mark women in sailing further, the Magenta Project has teamed up with the Royal Ocean Racing Club for the Race for Equity dinner and party tomorrow night (Wednesday). Here you'll have a chance to raise funds for the Magenta Project whose mission is 'To inspire, to upskill, to change culture in sailing – across the board'.
On a final note, the race committee has reached a decision that, given the Met Office yellow wind warning in force for the south coast, no racing will be possible tomorrow and therefore racing for all classes has been abandoned.