12:09 Sunday 30 Jul 2023 Sue Pelling

Cowes Week Day 2 racing abandoned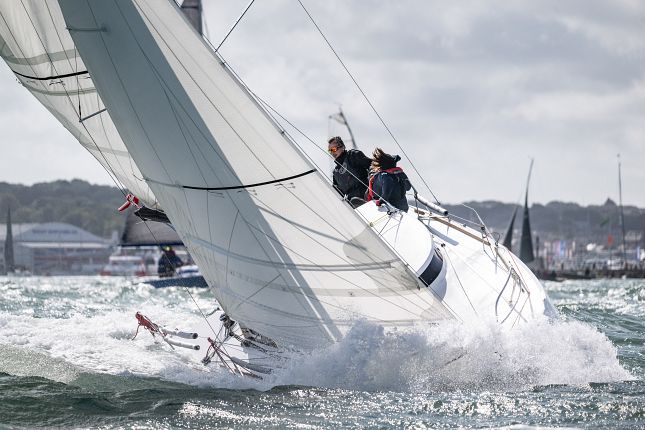 Competitors were greeted with sun and a good working westerly breeze early this morning but with the predicted weather front sweeping along the Channel sooner and with more intensity than initially expected, racing for all classes was abandoned.
Although the Race Committee gave it a good shot this morning and plans were in place to at least run racing for the big boats, it was not to be, as Laurence Mead – Regatta Director explained: "We knew the weather window for racing today was pretty narrow. There was an opportunity to perhaps race the big boats in that window but we were watching the weather front come down and it arrived significantly earlier in Poole than we were expecting. When the front reached Poole early, we realised we were going to lose our weather window, even for the big boats, because by the time they got out there the breeze would be full on.
"So, although it actually dropped just before we abandoned, that was just the effect of rain. We had a big squall in front of it, then it dropped but we knew that in the following 40 minutes to an hour it would be up to 29kts and gusting a little more – up to 30-32kts."
Looking ahead at conditions for tomorrow and beyond, Mead said it's looking more hopeful: "We often lose a day in Cowes Week with too much or too little wind so hopefully today is the day. The forecast for the next few days is more moderate and looks good, although Wednesday now looks a bit punchy. However, we'll take one day at a time, in fact we almost do it hour by hour, which is what we've done today."
Back on shore competitors and visitors to Cowes now have time to enjoy a relaxing day exploring and enjoying all the Cowes Week shoreside activities including afternoon tea at or a Mermaid G&T at the Mermaid Gin Garden at Northwood House and, of course, a Mount Gay Rum cocktail – Cowes Week's official rum supplier – at their bar on Cowes Yacht Haven.
One place of interest definitely worth a visit is The Classic Boat Museum at Medina Yard, Thetis Road, Cowes, which has an impressive collection of nearly 90 boats, from classic yachts, motorboats, and lifeboats to Sir Ben Ainslie's 2017 America's Cup test boat BAR T1. The Boat Shed will be open every day during Cowes Week between 1100-1600 and entry is free.
Elsewhere, along Cowes High Street there is plenty of opportunity for shopping at the many lifestyle/nautical-themed shops, and a chance to listen to some of the many live bands. Cowes Parade Regatta Village entertainment kicks off at 1430 with John McKinnie.