18:57 Thursday 3 Aug 2023 Sue Pelling

Cowes Week Day 6 round-up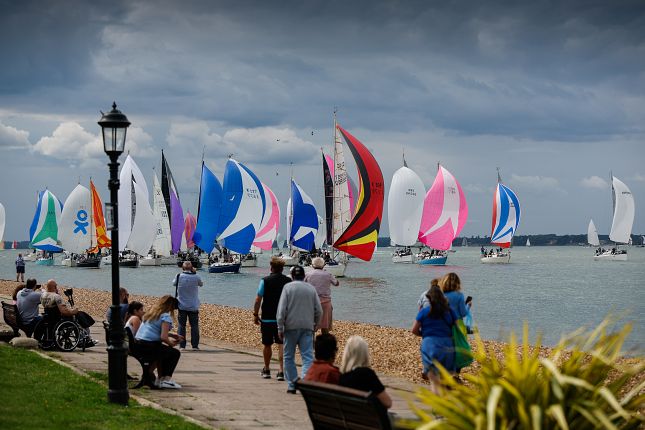 Having lost two days of racing because of high winds this week, it was a relief that today's penultimate day of Cowes Week produced slightly less bracing conditions that allowed all fleets to enjoy a good, solid day's racing on the Solent in generally light north-north-westerly winds. Although the menacing winds from yesterday had blown through, competitors faced a different style of challenge today – strong tides – which resulted in a mix of general and individual recalls across many starts.
Given the fact that two races were lost this week there was also a new level of challenge that came into play today with competitors now having to count all races sailed, rather than discarding their worst score. In many cases just a couple of points separate positions.
The Royal Yacht Squadron outer start line produced another sight to behold today with three of the biggest classes (IRC 0, IRC1, and the Cape 31) kicking off proceedings. There was all to play for in IRC 0 with Ian Atkins' GP42 Dark n Stormy having a four-point advantage over Tony Langley's TP52 Gladiator going into today's race. However, Gladiator had her day today with a race win while Dark n Stormy took fifth. This now puts them on equal points going into the final race tomorrow.
Gladiator's William Beavis said it was an exciting race with lots of corners but tricky. "The start was pretty busy and on those reaching starts like we had today it's all about timing and not setting up too early so you are over the line. So yes, it was challenging out there today, but good fun."
The Redwing class never fails to produce good racing but one of the regular standout teams is Mark Downer and family sailing Enigma. They have absolutely revelled in this week's windy conditions and produced an impressive string of first places, and going into this morning's race, were overall leaders of White Group. Today however, Matthew Alexander, John Raymond and Alexander Shaw in Harlequin pipped them to the post. But today's second still keeps the Downers in contention for class victory tomorrow albeit by just two points. Like everyone else however, with no discards, tomorrow's racing is about sailing conservatively and sailing clean at the start.
Downer chatting about today's race said: "It was a tough one today because it was lighter and there was a stronger tide, plus we suffered an OCS we had to correct, which didn't help our cause. It was a real snakes and ladders Cowes Week race today, so we were pleased to have finished second. The tide will be stronger tomorrow I think, so I am hoping we'll be racing in the Hill Head area where the tides will be less intense."
Another class vying for White Group honours is the Solent Sunbeam, which is celebrating its 100th anniversary this year. Martin and Vicky Jones sailing the 1927-built Holly have been enjoying a close battle at the top of the 17-strong fleet with local Sunbeam star Roger Wickens on Danny and today was no exception. The Jones' once again showed their true colours with another win, while Wickens scored another second place. They now have just one point between them going into the final day tomorrow.
Astralita is the boat of the 'moment' in the super-competitive 41-strong XOD class. Sailed by John Tremlett, Tim Copsey and Fraser Graham, this team had a couple of wins on the first two days and ninth on Tuesday, so was looking to get back in the groove today. However, in the light tricky, conditions and after two general recalls, it was Penny Fulford and team on Madeleine who sailed impressively in the extremely difficult conditions to take first place, nearly two minutes ahead of Astralita.
Fulford commenting on her race strategy said: "Our plan to start the pin end with space around us and in clean air worked out and we managed to make good headway up the first beat, which was really the key to our win today. Thankfully, once ahead we kept the momentum going and held on to the lead to the finish. It was a difficult day particularly the long runs against the tide, but we are very pleased with today's result."
There may only be six boats in the fleet but intense competition within the HP30 class continued in earnest today with a few boats victims of OCS including Jerry Hill and Richie Faulkner's team on Moral Compass – the current fleet leader going into today's race. However, with a quick spin around back across the startline the team wasted no time getting back on track on the long close fetch out to the western Solent and were back in control again at the first mark.
Commenting on his race win, Jerry Hill – skipper – said: "There were several over at the start but ourselves and Vendetta went back. We had a good first leg but because the wind remained mainly in the north rather than the expected northwesterly in the western part of the Solent, we were able to fly our Code Zero on two legs including the final one back to the finish line, which really helped us as we crept along the Green against the tide. It was a good day and we're now looking forward to more of the same tomorrow."
The SB20 fleet enjoyed the first of its Mini Grand Slam Series today with Rob Gascoigne and Steve Restall's Game of Thrones taking a race win. However, mention must be made of Robin Kirby, Matt and Chris Williams on Absolute Carnage who won the three-day Grand Slam series at the beginning of the week beating Harry Barker and team on Crimson Typhoon by nine points.
In the 11-strong Etchells fleet Andy Beadsworth sailing with his son Joshua (13), Ethan Rhodes (Joshua's Fever dinghy sailing partner), and Paul Blowers on No Dramas, remains at the top of the fleet despite a break in their fleet domination today. Today's star of the show was Ada sailed by Oliver Maclean and Ewan Wilson, while Beadsworth finished fourth. Beadsworth commented: "It's looking good for us but we just need to sail smart tomorrow because we don't have any discards."
Back on shore competitors enjoyed the welcoming dry conditions and were able to embrace the fun, social side of the regatta with the legendary red cap Mount Gay Crew Party at the Event Centre on Cowes Yacht Haven this evening. The Musto Bar in the Yacht Haven was also buzzing, and Cowes Parade Cowes Week Regatta Village was the place to be for a delicious selection of food and drink, as well as its popular acoustic sets on the main stage, which ran throughout the day.