18:08 Sunday 31 Jul 2022 Rupert Holmes/CWL

Day 2 round up report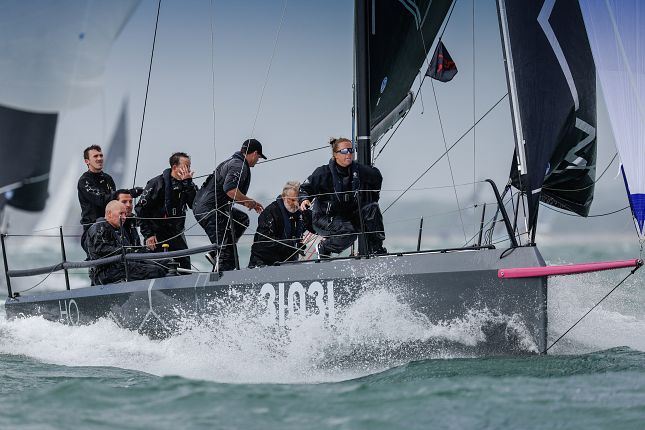 Warm weather, combined with winds gusting above 25 knots, provided lashings of excitement, thrills, spills and adrenaline for competitors across all fleets at Cowes Week today. Long downwind legs for many classes ensured competitors came ashore with big grins.
It was also Family Day at the Regatta, which celebrates the many family teams that sail together – or against each other – during the event. These extend right across the sport, from small dayboats in which members of the same family may race against each other, to the very largest state-of-the-art raceboats where family members sail together.
In IRC Class Zero, for instance, Emmy Walker is sailing onboard the GP42 Dark n Stormy, with her father Ian, who is the team's tactician. Similarly, Huw Neville is sailing with his dad James on the HH42 Ino XXX, while Jacintha Hamilton is racing with dad Christian on his GP42 Khumbu.
These big boats had a gruelling 25 mile race, with around 80 tacks along the mainland shore, according to Ian Walker, as well as high-speed downwind blasts at boat speeds that topped 24 knots. Yet the first three boats crossed the finish line just 25 seconds apart. Christian Zugel's Fast 40 Tschuss took victory on corrected time, 10 seconds ahead of Dark n Stormy, with Khumbu third.
At the other end of the spectrum, the 20ft long Uffa Fox designed Flying 15 was born in Cowes 75 years ago. Yet it's still one of the fastest small keelboats at Cowes Week, where competitors are honing their skills ahead of the European Championship, with 65 entries, that will be hosted by Cowes Corinthian Yacht Club later this month. Today, several teams recorded boat speeds in the 14-15 knot range. "It was an exhilarating day," says Rupert Mander of Men Behaving Badly, "especially our first reach, which was a super-quick blast." He also reported a "very confused" sea state each side of South Bramble buoy.
Race detail
At the start of today's Flying 15 race Rob Goddard and Adam James' Over the Moon attempted to cross the fleet on port tack, but jumped the gun and had to return to start correctly. However, Mander, who won the opening race by eight seconds, had noticed that no boat in previous starts successfully crossed the fleet on port. He therefore started mid-line on starboard tack, emerging with an early lead a minute into the race.
At this time it was noticeable he and crew Gareth Edwards were able to keep the boat flatter than the rest of the fleet, feathering up in the gusts with flat sails. Men Behaving Badly continued to maintain a speed advantage upwind for most of the race, though other teams had an edge downwind. Nevertheless Mander, who raced at Cowes Week with his father John for decades, pulled out to a 1 minute 40 second lead ahead of Richard Jordon's Forced Family Fun and Lisa and Roger Guy's Ffervida.
A strong flood tide across the race course forced classes that started early from the Royal Yacht Squadron line to short tack close inshore to gain relief from the adverse stream. They also had to conquer a very gusty and unstable breeze which peaked close to midday, before moderating in the early afternoon.
In the first race today for the SB20 class Lizzie Farrington's Boomerang started prematurely and had to return, while John Pollard's Xcellent was the most inshore boat. Nevertheless Boomerang recovered to take second place behind Xcellent, ahead of third placed Matt and Chris Williams' Carnage.
Xcellent won the next two races, while Phil Tilley's Tan Gwyllt took second place in the next two, ahead of Carnage and Paddy Whelan's Amica. Half-way through the class' 12 race short series Xcellent leads the fleet with an unbroken run of victories. Tan Gwyllt is second overall, five points ahead of Carnage, while Boomerangis also vying for a podium position, just four points behind.
The dayboats that were early starters on the Royal Yacht Squadron line had their first mark on the Island shore. However, the windward mark for Quarter Tonners, IRC fleets and Cruiser classes was closer to the mainland shore in the western Solent, which opened up a big difference in the dynamic of the first leg for the larger boats. Most of the top teams initially opted to short tack close to the island shore in less adverse tide, before a long board across the strongest stream in deep water. Others, however, started closer to the outer end of the line and heading offshore early.
In the Contessa 32 fleet Jeremy Swetenham and Ben Rogers' Jemmana set up for a port tack start at the inshore end of the line in a move that might have worked nicely had they not arrived marginally early. This left Donna and Martin Rouse-Collen's family crew on Andaxi nicely placed on starboard tack mid line, a little ahead of, and to windward of, Donna's father Ray Rouse on Blanco.
In contrast, another family crewed boat, Charles Hill's Nimbus, along with Eldred and Mark Himsworth's Drumbeat were well offshore, hoping to sail a shorter distance to the first mark, at the expense of spending more time in stronger adverse tide. Which option paid off? At the finish three and a half hours later only 35 seconds separated Drumbreat and Andaxi, while Blanco took third place a few minutes later.
The Cruiser classes at Cowes Week are continuing to grow and comprise four classes this year, across Performance Cruiser and Club Cruiser divisions. Performance Cruiser B this year includes 20 boats from 25-45ft that represent more than 50 years of yacht design.
A number of competitors were punchy at the start, with Timothy and Jeremy Wright's First 36.7 Watermark 2 decidedly early. However, Rebecca and Andrew Buchanan's Mustang 30 Haggis 2 made a nicely timed port tack approach crossing all the inshore pack with the exception of Neil Miller's Dufour 40 Elidie. Meanwhile, Ian Miller's Sun Fast 32 Dabra led a group of boats offshore by a significant margin.
Elidie went on to take line honours, 15 minutes ahead of Simon and Julia Bowes' Dehler 42 Seasalt, to win on corrected time by an impressive margin. Haggis 2 finished in front of many of the larger boats to take third place, just 90 seconds adrift of Seasalt after time correction.
Racing for all classes continues tomorrow, when the winds in the morning are forecast to be a lot lighter, before settling into a west-southwesterly of 14-18 knots during the afternoon.