16:07 Sunday 31 Jul 2022 Esme Tilling and Lillie-May Crane

Family Day at Cowes Week 2022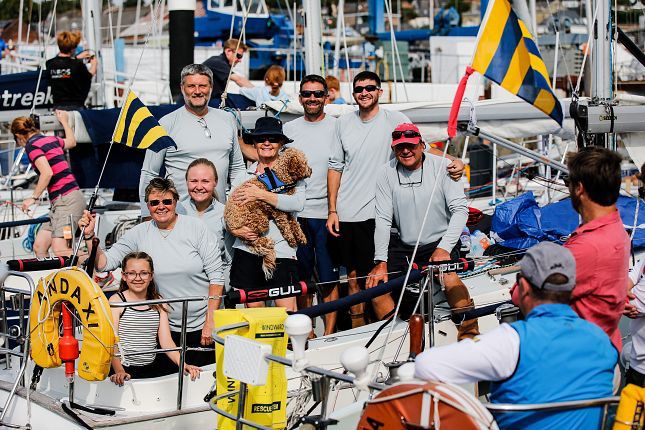 Today the Regatta highlights the many families that race at Cowes Week, sometimes with several generations on the same boat.
The crew of Andaxi, racing in the Contessa 32 Class, give an insight into what Family Day means to competitors. Andaxi is sailed by 11-year old Eva, her older sister Sophie, parents Martin and Donna, plus dog Bextor. Eva describes the experience of sailing with her family as "really fun" and "a big laugh". Taught by her parents to sail, sailing has become a key factor in building her close relationship with her family. She acknowledged that sailing was unlike many other hobbies, with Donna emphasising that it helped her daughters develop skills such as resilience.
Despite being a competitive sport, teamwork brings the whole crew together and Donna described the entirety of the Andaxi crew as an "extended family". Their family, however, stretches beyond the Andaxi crew, for they are competing against their Grandad, Ray, who is helming Blanco, also in the Contessa 32 Class. Sophie says that when they are racing she "likes making Grandad proud", and for Ray he gets to see two generations of his family doing what he loves and can take any losses with a smile. The value of sailing as a family is confirmed by Donna who says that, "you see different sides of your family members and you really appreciate each other's strengths". While this may be true for the humans, family dog Bextor shows a distinct lack of fondness for sailing.
Click here for details of family specific events taking place today.
As always, in addition to watching the racing and family day activities, there's also plenty to do on shore. Click here for a list of today's events: