15:35 Tuesday 3 Aug 2021 Esmé Tilling

Women's Day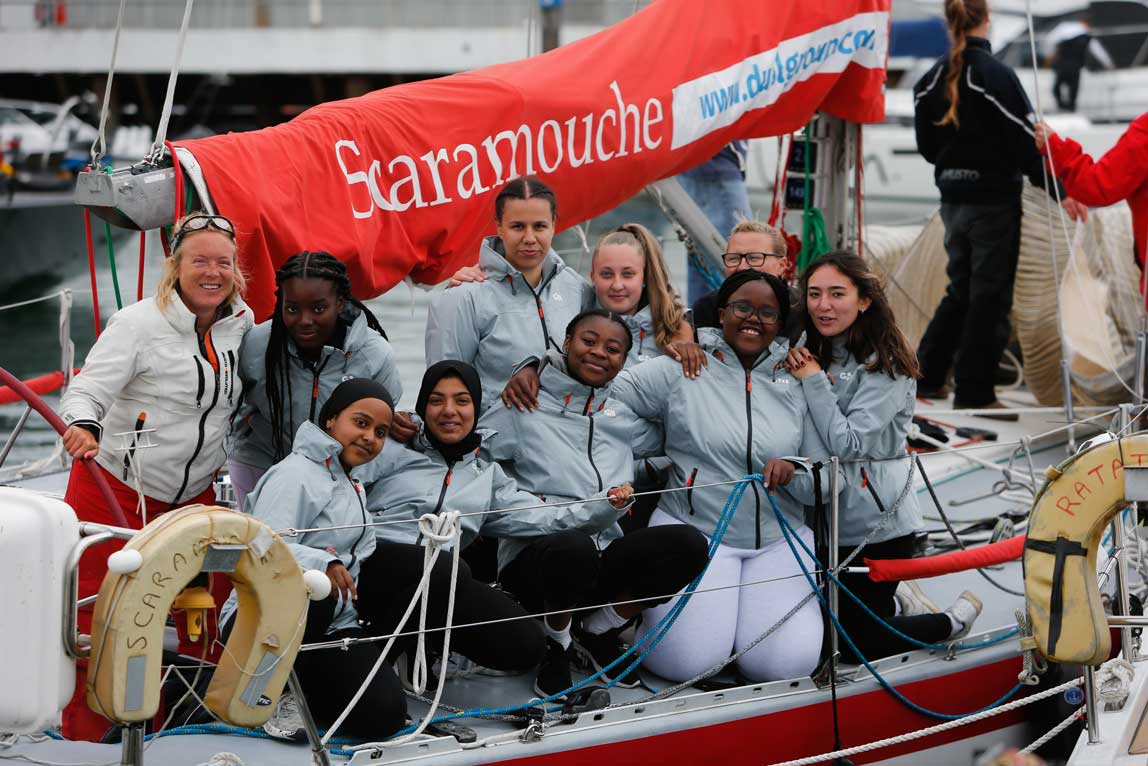 Women's Day at Cowes Week is a celebration of the contribution and achievement of women in sailing. Sailing has often been recognised as a male dominated sport however, it is encouraging to see more and more women participating at the Regatta.
In particular, the Scaramouche Sailing Trust has (for the first time) entered an all-female crew on their well-known 45 foot, two tonner, Scaramouche (one of the largest boats at the Regatta.) Scaramouche's skipper, Amanda Mochrie said: "The girls are as keen about sailing as the boys and they're extremely competitive. There are so many of them that we need to put them on the biggest boat, and get them out sailing."
Amanda reminisced on her early sailing career stating that, "Female boats were very rare", highlighting the vast progress the sailing community has since made to become more inclusive. She feels that all-female crews can be essential for women to learn and gain confidence before going out into the wider sailing world and is privileged to be a part of that for the girls on Scaramouche.
Talking to crew members Safir Suarez and Daniela Musabi the value of an all-female crew becomes all the more clear. Daniela felt that as a girl people "Talk to you as if you don't really know what you're doing," she countered this assumption however, by stating: "not only are we females, but we're young females and we can handle every part of the boat." She felt that all-female crews projected that message.
Safir emphasised that being the first all-female crew for the Trust placed a lot of pressure on them. She said that she thought that they wouldn't be the first, exclaiming: "I was quite shocked." Daniela noted however, that being the first all-female crew also means that "You can only go on to bigger and better things."
Pip Hare, finisher of the 2020/2021 Vendée Globe (a non-stop, solo, round the world race), is supporting Scaramouche at Cowes Week this year. She feels that she can relate to the girls on Scaramouche who attend Greig City Academy in inner-London. Pip said: "One of the things I really struggled with was that I grew up in Huntington, which is in the middle of East Anglia, with no access to boats." She expressed how pleased she was to see that opportunities were being offered to these young women to get into sailing.
Pip said that she still considered sailing a male dominated sport, she explained the lack of reasoning behind this however, by stating:
"Sailing is a massively diverse sport, if you look across the whole marina here you can see loads of different types of boats, they're sailed in different types of ways, and you need a huge amount of different skills to make these boats go well, go fast, go safely, and you find those skills in lots of different people and they don't have to be a certain body type, they don't have to be a certain shape and they don't have to be a certain gender… Bringing women onto the team adds value, it's not taking anything away."
We hope that by acknowledging these incredible women, we can encourage increasing numbers of all-female/mixed crews to participate in the regatta.