12:00 Tuesday 20 Jul 2021 The Regatta Team

Regatta Update for Cowes Week 2021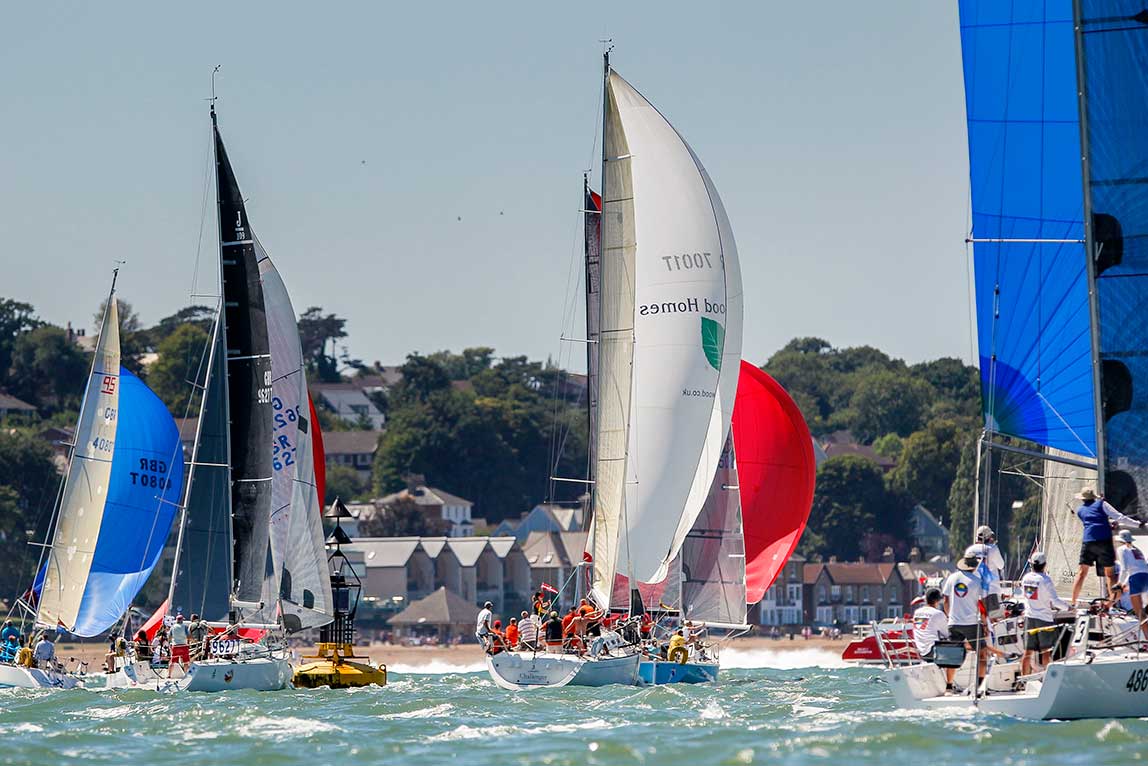 There are quite a lot of changes this year but they mostly revolve around the start.
In order to enable us to have more of the action starting at the Royal Yacht Squadron, which is good for sailors and spectators alike, we are shortening the gaps between starts. There is now a rolling five-minute sequence for a number of classes, whereas before we had a five minute gap for the line to clear. The start of one class is therefore the warning signal of the one following. This is all laid out in two tables in the Sailing Instructions, one of which is a reference for start time by class, and one laid out in chronological order.
To summarise the changes and updates:
Rolling five minute start sequence. The start of one class is the Warning Signal for the next class.
There are gaps built into the schedule to allow the line to clear. The AP flag will be used if the first leg becomes too congested and classes catch up with each other.
Royal Yacht Squadron starts will mostly be from the Inner Line.
The RYS start Line is a transit of the mast at the Royal Yacht Squadron. The Outer Distance Mark moves on the tide and is not necessarily on the transit. If you are pinging the line you will need to do it in one of the 5-minute gaps to avoid interfering with an earlier start, but you may be able to rely on the same 'ping' all week.
The' Bramble Committee Boat' has been renamed 'Committee Boat One' and will go to the best location each day. There are still 8 or 9 classes starting there every day.
'Committee Boat Two' (previously known as the White Group Committee Boat) will run races 2 & 3 for the J/70 and SB20 Classes on the Bramble Bank Plateau with exact location advised each day.
'Committee Boat Three' (previously known as the Black Group Committee Boat) will start our new 'Featured Class of the Day' with a different class each day. This is part of our 5G initiative where we plan to bring our sport to a wider audience. It also enables us to potentially run extra races for other classes, should we lose a race to too much or too little wind, thereby hopefully catching up on the schedule (where we can).
It is our intention to release courses as close to half an hour before a class start as possible. If the start is more hectic with the 5 minute sequence we can make it easier in another way by sending the course earlier.
Finally on the starting sequence, don't forget that we use a video system to identify boats which are 0CS. We will fly Code Flag X to identify the fact that there have been early starters, but unlike other regattas it does not come down when all of the potential transgressors have returned. We leave it up for four minutes so that our video team can be sure that we have identified everybody who was over the start line. This is a change to the Racing Rules of Sailing and it enables us to run multiple starts, and big fleets, without general recalls ruining the event for everybody. The simple fact is that if you are OCS, our video cameras will catch you.
We hope you like the changes to the regatta this year and we would ask all competitors to be mindful of other boats and to keep as clear as possible of other boats starting. We think this new structure will be fun for both competitors and spectators alike, but it will require everybody to be considerate on the water, particularly around the start line area.
The Cowes Week App will be released just before the event once we have had a chance to put all of the right boats into the right classes. We will advise you of your individual registration code that will ensure you get the right starts and course information for the class you are racing in. Another enhancement this year is the ability to declare with the minimum of fuss using the App, and this will be particularly important for retirements. It is vital that we maintain a good knowledge base of which boats are racing and which have retired, particularly in stronger winds, so your support in quickly communicating this information to the Race Team will be appreciated.
The small craft moorings to the north of the Breakwater remain a restricted area and count as an obstruction for racing boats approaching it, so please do keep clear of this area at all times.
Don't forget that the penalty for a rule infringement at Cowes Week is a time penalty rather than doing returns. Take it at the time and it's 1%, take it later and it's 3% (or possibly a DSQ!)
On that note the Protest Office will this year be on the ground floor of the Event Centre on Cowes Yacht Haven rather than in Regatta House.
The J/70 class will kick off racing for Cowes Week this year with a first start on Saturday 31st of July at 10:45. Somewhat later than in previous years to give people more time to prepare.
On the social side there are no fireworks this year which was a decision we made a long time ago for Covid reasons and unfortunately no Red Arrows as they are fully booked that week. We will have a Regatta Village on the Parade and Cowes Yacht Haven will have a beer tent as well as a food court and their Pontoon View bar, which is proving very popular. The Northwood House Lawn Bar and Tea Garden will also be running throughout the week. 
We have a few tickets left for the Cowes Week Ltd Cocktail Party at the Royal Yacht Squadron on Sunday 1st August, please contact the Regatta Office on 01983 242049 if you would like to attend.
And finally, don't forget the Cowes Week opening party with free bubbly (with huge thanks to our new sponsor Cuveé 450!) kicks off at 18:30 hours on Saturday, 31st of July at Cowes Yacht Haven and we look forward to seeing you there.