23:00 Thursday 27 May 2021 Laurence Mead

Regatta Director, Laurence Mead outlines the thinking behind the organisation of the event.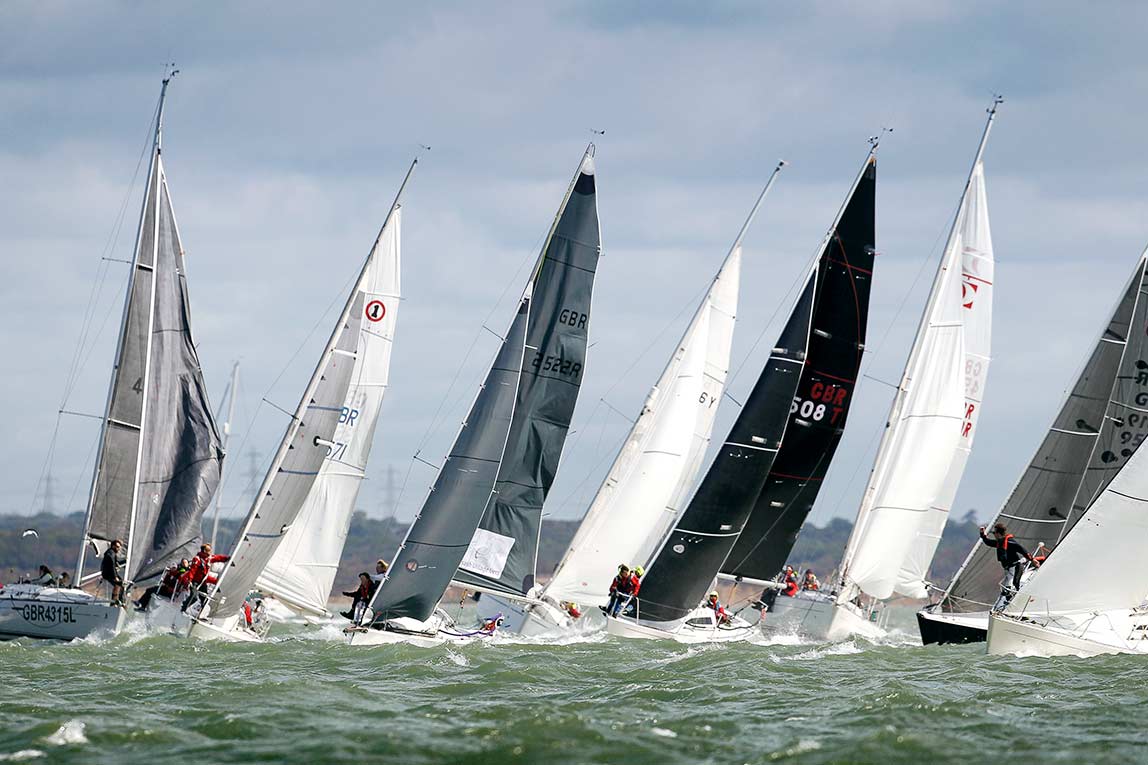 Regatta Philosophy
Our aim is to deliver world-class regatta racing.
We aim to start races as soon as there is enough wind to get you off the start line and to carry on racing in as much breeze as we safely can. For White Group boats that tops out at circa 25kn - 26kn (less for some of the smaller white group) and for Black Group at about 30kn - 32kn. Again, less for the smaller Black Group boats.
The PRO will make decisions based on safety and good racing. Tide in the Solent makes a big difference to conditions too!
We want to deliver hugely varied courses and challenges. Back in the day when every boat had a spinnaker pole the pressure was on to avoid white sail reaching, whereas today sails exist to make close reaching an exciting and challenging sailing angle. Firing the vang and avoiding broaches on a tight reach is a sailing skill. Cowes Week likes to test all of the sailors' skill set.
Whilst most races will start upwind, that's not necessarily a requirement. However, start lines on committee boats running short-course racing (which we do for some of the One-Designs) should deliver good square start lines. Off the Squadron line, it-is-what-it-is. With strong tides and a wind shadow underneath the Castle, working out where to start and how to maximise that opportunity delivers good tactical challenges.
Broadly speaking we don't shorten courses unless it is because the time limit is approaching. It may lead to a long day on the water but persistence and extended concentration have always been important in our sport and with the Solent winds and tides no race is really ever done until you cross the finish line. One of our all-time favourite races took six hours around a Cowes Week course and involved at least two transitions from the south-westerly sea breeze into a south-easterly sea breeze. A classic Solent challenge, and, although we didn't win, it was a hell of a race!
We will try to make up races lost to poor wind conditions by running two races on some days, for some classes, some of the time, and vary that opportunity around the classes.
Communications
We will communicate openly and as often as makes sense so that competitors know what's going on.
We will try to make early calls where we can and communicate those calls and the reasons for them. However, with 40+ classes sometimes decisions are made by boat groupings rather than by individual class and that is just a reality in such a huge undertaking.
It's different! It's meant to be!
The theme, above all, is about having fun and enjoying a great regatta with hundreds of other boats and thousands of sailors.
The racing at Cowes Week is different and as a consequence some of the best memories are made there. Beating up the Green against the tide is not easy and it can be frustrating. On the other hand it is an amazing test of all-round sailing skill and we think not a challenge to be shied away from.

We want everybody to have fun, both on the water and ashore.
The Start, why we adapt the RRS for Cowes Week.
Every racing sailor knows that the start is an important part of the race and on a windward/leeward course getting a start line almost exactly "right" has become accepted wisdom. At Cowes Week, however, the challenges are much more varied. We like it that way and want it to be that way.
Starting in light winds, either with, or against the tide both require different skill sets and we think a regatta should test all of the sailors' repertoire. Starting on a reaching line with a marginal kite is also challenging and not every start line has to be 88.5 degrees to the breeze…! It may not always go exactly as you planned but in a typical Cowes Week course there should be enough time and opportunity, and overtaking lanes, to get back into it.

Racing 650 boats on 42 starts every day it is also impossible for us to consider too many general recalls. To overcome that problem we have a sophisticated "VAR" camera system which allows us to replay the start, identifying frame by frame, everybody who was over. By the time you get back the team will have worked their magic and the results on the board will reflect what the cameras show.
That does mean however that the standard Racing Rules of Sailing need changing. We do not drop the x-ray flag after all boats have restarted and cleared the line because it may be that the camera will catch other OCS starters once reviewed. We have debated this point endlessly and we think this is the fairest way.
However! It does mean that when a single boat is over, and we could clearly identify that boat, we are unable to let them know it's them by having a radio recall system as some races do, or that they have returned behind the line by dropping the x-ray flag. It's just not feasible to have two different systems at the same time!
In that situation it is a little harsh on the boat(s) over but we think it is a reasonable balance in order to get the regatta run for the majority. The simple fact is that if you are over our cameras will catch you so, with a long and challenging race in front of you, you need to stay behind the line!
Safety
Whilst sailing is not an inherently dangerous sport, there are of course always risks and those risks increase as the wind speed goes up and Solent tidal streams also play a big part in conditions on the race track. As regatta organisers we have a comprehensive safety plan and a thorough risk assessment in place but competitors, be they skippers or crew, are reminded that it is a fundamental principle of our sport that responsibility to make the decision to race, or to carry on racing, lies with the crew themselves.
There is no shame in deciding that conditions are a little beyond you if that is how you feel. The fact that another boat carries on racing also has no bearing on what you should decide for yourselves. It is entirely possible that they have been racing all season whereas you put together a crew just to do Cowes Week. It's only natural that the level of practice has a bearing on a crews comfort factor in strong winds, so, whilst we may carry on racing it is not always suitable for every crew.
We don't insist that all boats have reef-able mainsails…..if you don't have a reef and it gets properly windy you may have to take the mainsail down all together…..your call!
The Rules
Fun is an important principle and we encourage all sailors to act in a way that makes it fun.
Two boats coming together in the middle of the racecourse happens thousands of times over the course of a Cowes Week day and the vast majority take place without incident. If that requires a bit of give-and-take we encourage all crews to remember it's a regatta not the Olympic Games. Winning is good. Winning with respect is better.
In the case of a collision we have a fully constituted international jury and all of the processes to help you settle the dispute. Sensible sailing however, often avoids the need to go to the protest room.

Don't forget the immortal words of Paul Elvstrom:
"You haven't won the race if in winning the race you have lost the respect of your competitors."
We can look back on races where we could've handled things differently, where situations got unnecessarily heated, but without respect both ways, our wonderful sport is diminished for all.
It's also a self-policing sport so don't carry spinnakers in excess of your class or rating allowance, stick to the weight limit, even if it's on an honour system, and enjoy a fabulous holiday on the Isle of Wight with some great boat racing.
Onshore
Cowes Week is an opportunity to meet old friends and to make new ones. Onshore we work hard to deliver a fabulous social program, with all of our partners around the town and the local yacht clubs. Please enjoy it.
Every day there is something on, or one of our local yacht clubs has an open-day for competitors. There are also parties almost every night at one club or another, as well as socials at numerous establishments in the town.
Security (enhanced for 2021) is there for everybody's benefit and the less they have to do to make the regatta a safer place, the better for all of us.
Families
It's a holiday week so we want to make sure that friends and family, husbands, wives, children and significant others who may not be sailing also have a great time. To that end we try to make sure that there is plenty of family entertainment and that attracts non-sailing spectators to the event. Those spectators are an integral part of Cowes week. Please enjoy the town alongside the non-sailing spectators.
2021
For 2021 we will run more starts, on a five-minute rolling sequence from the Royal Yacht Squadron line so that we can get more classes away from that location (there will be gaps built in to clear the line and let the Red Jet into the river)
Where it is safe to do so we would like to get most boats to finish off the Castle as well so the winners can get the cannon fire from the Castle. We love the RYS / Cowes Week cannons going off!!!
Our Mission.
1. To deliver World Class Regatta Racing
2. Inclusive. Aspirational. Corinthian. International. Fun.
3. At the leading edge of modernity. Highly efficient, high quality race management.
4. To maintain the traditions of Cowes Week.
5. A vibrant and engaging social program for all age groups, and for non-sailors alike.
6. To be spectator friendly and to draw crowds for the benefit of the town and the Island as a whole.