13:00 Wednesday 22 Jan 2020 Roger White

What's in store for Cowes Week 2020? - An interview with Laurence Mead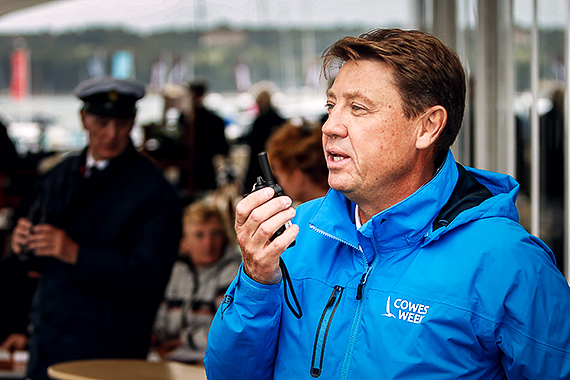 RW : Since you came back to full-time living in the UK and took over as Regatta Director at Cowes Week, you seem to have made a number of changes to the regatta.
LM : I hope that we're showing that we want to be a forward-looking and modern regatta, whilst at the same time respecting the traditions of Cowes Week. Some of the changes have certainly been aimed at getting the regatta back to its roots, others to moving it on!
Cowes Week is a really unique event. Starting off the Royal Yacht Squadron line, beating up the green and finishing in front of the spectators with spinnakers up are things that I remember from my earlier days of sailing and something that I know our competitors enjoy. It doesn't matter which boat it is finishing; when we're standing on the platform taking down sail numbers and the cannon goes, the happy fist pumps of joy are always there, whether it's a TP52 or a Contessa 26 getting the gun.
RW : What's different for 2020?
LM : 2019 was a great success, despite the weather. We had no protests against the Race Committee, and thanks to some great work from our army of volunteers and our technology team in the background, we got all the results out literally within minutes of boats finishing - so that's something we want to repeat in 2020. World-class regatta racing is the mantra we repeat to ourselves in the office all the time, and if we're going to continue growing Cowes Week, we have to deliver that across 45 races and 4000 competitors every day.
Probably the biggest change for 2020 is going to come in the Cruiser Division, where we are recognising the very different characteristics of so-called Club Cruisers compared to their more modern Performance Cruiser cousins. It's been an uneasy alliance over the last couple of years with all of those boats racing together, so in 2020 we are splitting them out, offering four classes for Performance Cruisers and two or three for Club Cruisers, depending on the number of entries.
The Club Cruisers divisions will be for those slightly older production boats with more general cruising gear on board, while something with a bulb keel and/or epoxy construction will definitely go into Performance Cruising. There isn't an age definition between the two, but I think the names are self-explanatory! I'm looking forward to working with owners to make sure they end up in the right division.
RW : You broke IRC into eight divisions last year by splitting class five into A and B.
LM : Yes, that was a relatively last minute decision, but it worked out very well and enabled us to keep similar boats grouped together. In recognition of that need, we are going to run eight IRC classes this year, but the rating splits are unlikely to be massively different to last year, depending on the spread of boats that actually enter.
RW : Last year you made a significant change by ending the Cowes Week points series on the Friday for all classes. However, holding the prize-giving that evening didn't go entirely to plan?
LM : Well it went to plan in that it was incredibly popular! The plan fell apart thanks to 40 knot winds and driving rain. We didn't have an adequate alternative for those weather conditions, so it became too cramped and noisy. However, we are excited about having the overall prize-giving for the week's points series on the Friday night, because it enables competitors to collect their prizes on the day of the last race and to hopefully party afterwards with their crew and other competitors. We are working on an improved plan for 2020.
RW : That leaves the final Saturday racing in limbo doesn't it?
LM : To a degree it does, but it's the best time of year for boat racing, so we want to give absolutely as much time on the water as possible for those who want it. It's therefore definitely our plan to continue racing on the final Saturday for the foreseeable future. In 2020 the Cowes Town Regatta team will be in charge of running the racing that day, and competitors have an opportunity to win trophies dating back to 1842. Because we consolidate starts on that day, it's a great opportunity to race with a different group of boats, and it also gives people a chance to do a different job on the boat. In addition, people can enter for just that day, so newcomers to Cowes Week are able to race in a slightly less crowded Solent whilst they get their bearings.
RW : The number of boats racing in regattas seems to be generally falling. Is that affecting Cowes Week?
LM : Thankfully, although our entry numbers are down a little on their record levels, they're holding up remarkably well. For a lot of classes, their biggest turnout of the year continues to be at Cowes Week. However, we're not resting on our laurels and we're very aware that we need to focus on the competitor experience, both on the water and onshore, to ensure that the regatta maintains its pre-eminent position in the UK and Northern Europe.
We have a comprehensive six-point plan to deliver on that goal. Of course, world-class regatta racing is right at the top of that list, and I think most competitors would agree that we're moving in the right direction in that regard. Thanks to the Cowes Week competitor app, we're certainly able to establish much better communications with our competitors than we have ever been able to do before, and that's certainly a feature of leading, modern, race management.
RW : It's true, though, that sailing demands quite a lot of people's time…
LM : Yes, and as we're all aware, time pressures are a key factor of modern life. Many people take a week's holiday to come to Cowes Week, so we know that we need to create a really great overall experience for families, as well as sailors, to make it attractive.
Wearing a slightly different hat as chairman of the Solent Cruiser Racing Association, which has historically been the clearing house for managing Solent events from a calendar perspective, my own view is that there are a few too many races on the schedule now - which means that with all of the other modern time pressures in our lives, sailing is in danger of getting squeezed. That's why we have an initiative underway with the clubs to formulate the best Solent racing calendar possible, and we're planning a forum in Spring 2020 to better understand what competitors would like.
RW : So, everything is set for Cowes Week 2020?
LM : Yes our Super Early Bird entry period has just finished and we've already taken 50% more entries than we did last year. We have the fantastic spectacle of Sail GP at the end of the week, and we have 250 very enthusiastic volunteers from the ten clubs which make up Cowes Combined Clubs lined up to deliver some great racing - so we're very much looking forward to welcoming 700-800 boats to the start line in eight months time. Race 1 kicks off on Saturday August 8th!