18:00 Wednesday 8 Jan 2020 Cowes Week Limited

Radical Changes for Cruiser Classes and Super Early Bird Entries Open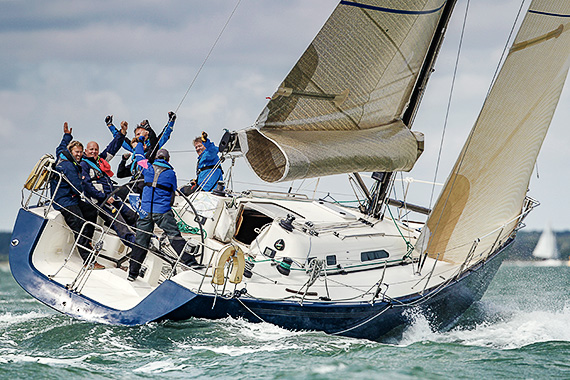 Sitting here in Cowes on a January morning it's impossible not to look out of the window and reflect on what was, in the end, a really amazing week's racing in 2019. After losing Saturday and some of Sunday to a 40 knot gale, the rest of the week was sailed in predominantly strong south-westerlies, but the smiles on people's faces after some of the amazing reaching legs were great to see. We had very good feedback on the racing from our competitor survey, so if you raced we hope you too enjoyed it, and if you didn't race we hope you will put Cowes Week 2020 into your calendar. Don't forget that in addition to the overall trophies there are individual club trophies every day of the week and you can enter for a single day, multiple days or the whole week as suits you.
Here's what you can look forward to:
Firstly, we will be running nine IRC classes, up from eight last year, as splitting class five into two classes (which we called A and B) worked really well. It enabled us to separate out lighter-weight asymmetric boats, and the feedback from competitors on this was excellent. Knowing that in advance means it makes sense to rename the classes Zero through Nine, but it won't make a huge difference to the IRC class splits in reality.
Secondly, we are splitting the cruiser division into two entirely separate entities, to be called Performance Cruisers (4 divisions as in 2019) and Club Cruisers (2 divisions). With luck the class names give the game away! We will be making racing available for what, in essence, are two entirely different types of boats and will be encouraging people to enter the right division based on their boat type. Modern cruising boats with bulb keels and epoxy construction deserve a class of their own, as do some of the more genuine cruisers, and the two will now be able to race separately.
The new Club Cruiser division will also enable people who have not entered Cowes Week in the past to be able to do so, even if their boats really are set up for cruising most of the time.
We are delighted to be able to welcome back SailGP. It was amazing to watch these phenomenal boats racing right off the Green in 2019, and although it does mean some adaptations for Cowes Week, particularly in terms of where our races might finish on a light wind day, it is a pleasure to have SailGP racing at the Regatta. We hope you will enjoy watching them racing on Friday and Saturday (August 14th and 15th) over the last weekend of Cowes Week.
The second half of the week will also see the 44Cup class racing at Cowes Week for the first time ever. These 44 footers (previously called the RC44 Class) are established as one of the world's leading yacht racing circuits and they are adding Cowes Week to their European tour this year. We are delighted to be able to welcome them to the Island.
We have had to increase the entry fees slightly this year but compared to other regatta entry fees we feel that for eight days of racing the regatta entry fee delivers excellent value for money. Super early bird entry discounts are available until close of business Friday 17th of January and represent a significant saving if you are able to enter early.
We are aware that in the past it has been tradition to accept a day lost to poor wind conditions but our intention for 2020 is to make every effort to put on a second race to try to catch up on any missed racing, when conditions and time allows. It will not be possible to do it for all classes but we will make every effort to do so, and to rotate that second race around the classes so that everybody gets a chance to make up races lost to the weather. At this stage it is our intention that all of these races would start and finish off the Squadron Castle so we are not adding windward-leeward racing per se. Cowes Week is much more than a race round a short W/L course and we think it should remain so.
The prize giving will be on Friday (and we promise a bigger venue in 2020!) but don't forget we race the final Saturday (the 15th) for stand-alone trophies, with racing run in conjunction with the Cowes Town Regatta Committee, which dates back to 1869. The entry fee if you only want to race the last Saturday for a bit of fun has been reduced to only 30 pounds !! (NB: it's included as standard in the "whole week" entry fee) A great chance to finish the week with combined classes adding to the fun factor.
2019 competitors can take advantage of a pre-filled in entry form by contacting entries@cowesweek.co.uk to gain their access code or simply enter via our website.
All entries received before midnight on 17th January will automatically entered into the Super Early Bird Draw for some amazing prizes from our sponsors and a chance to win a free entry.
We are working hard to make Cowes Week 2020 a fabulous week of regatta racing and socialising with friends and family, and we hope to be able to welcome you to the Island in August.