10:00 Tuesday 10 Dec 2013 CWL

Shaping Aberdeen Asset Management Cowes Week In Accordance with Feedback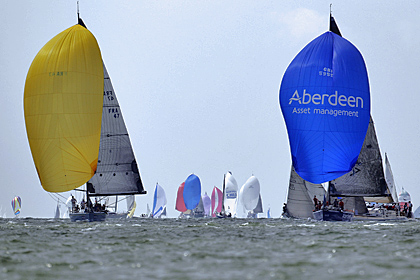 Following an extremely successful Aberdeen Asset Management Cowes Week in 2013, Cowes Week Limited (CWL) has spent the last few months collating feedback on the world-famous regatta from its competitors.
Taking information from daily SMS course surveys and the post-event online survey (both courtesy of eDigitalResearch), a debrief meeting with all the one-design classes and other individual review meetings with entrants, CWL has produced an action plan to address the main issues raised and continue to build on the success of the regatta. A summary of the action plan is available here.
Commenting on CWL's response to the feedback, Sales & Marketing Director, Michelle Warner, said: "Everything we do is driven by feedback. We're proud to take a proactive approach in evolving the regatta based on the feedback we receive from the sailing community and we're always open to new ideas".
Entries for the 2014 regatta opened back in August, and anyone thinking of taking part is encouraged to enter before midnight on December 31st 2013 to be in with a chance of winning the valuable prizes on offer. The overall prize draw winner will receive a rebate on their entry fee, free berthing (at either Cowes Yacht Haven, Shepards Wharf Marina, or East Cowes Marina), use of a Volvo for a weekend plus a 25L Gill dry bag and Chatham Marine shoes for the full crew. Runners-up prizes include a bar tab at the Spinnaker bar on Cowes Parade, the main bar at Cowes Yacht Haven and the bar at Shepards Wharf Marina, a copy of the Reeds Almanac (courtesy of Aberdeen Asset Management), a bottle of Mount Gay Extra Old Rum, a RIB Ride for 2 with Solent Events, tickets to one of Britannia Events' Cowes Week Receptions in the Dream Yacht Charter Hospitality area, and an Icom handheld radio (IC-M23 Handheld).
In addition, all those entering Aberdeen Asset Management Cowes Week 2014 before the end of 2013 and eligible for the prize draw will be invited to attend the announcement of the prize winner at the Gill stand at the London Boat Show on Saturday 11 January.