09:00 Thursday 13 Dec 2012

Feedback Drives Improvements to Aberdeen Asset Management Cowes Week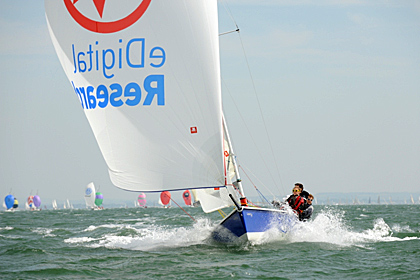 Over the last few months Cowes Week Limited (CWL) has spent considerable time gathering feedback from competitors and visitors to Aberdeen Asset Management Cowes Week 2012, as well as from all the associated organisations involved in ensuring the success of the world's best-known sailing regatta.
Feedback has been provided via the post-event online questionnaire (thanks to online market research specialists eDigitalResearch), individual review meetings, and a debrief meeting with all the one-design classes. As a result of subsequent detailed evaluation, an action plan has been formulated to address the common themes and to ensure the 2013 regatta is the best yet. A summary of the action plan is now available here.
Commenting on CWL's response to the feedback, Sales & Marketing Director, Michelle Warner, said: "Securing feedback is a critical annual process and is at the core of the development plans for the regatta as it enables us to identify and prioritise enhancements. We're firmly focused on further improvements to Aberdeen Asset Management Cowes Week and are very much looking forward to 2013. It's shaping up to be another fantastic year!"
Organisers announced that entries were open for the 2013 regatta back in August, and anyone thinking about entering is encouraged to do so before the end of 2012 in order to be in with a chance of winning the prize draw. The successful entrant will not only receive a rebate on their entry fee and a contribution to their berthing fee of up to £1,000 (courtesy of the four main mooring providers of Cowes Harbour Moorings, Cowes Yacht Haven, East Cowes Marina and Shepards Wharf Marina), but they will also win:
A £75 bar tab at Shepards Wharf Marina, a £100 bar tab for the main bar at Cowes Yacht Haven, and a £150 bar tab at the Spinnaker bar on Cowes Parade;
A complimentary meal for the winner and crew (of up to 10 people) during the event at The Anchor;
Sperry Top-Sider performance shoes for the full crew;
2 x 70cl 10 year old bottles of Talisker and 12 rocking glasses;
A magnum of Champagne Lanson;
A 25L Gill dry bag for the entire crew;
5 of the Best products from Liz Earle Naturally Active Skincare; and
An Icom handheld radio (IC-M23 Handheld).
All those eligible for the prize draw and entering Aberdeen Asset Management Cowes Week 2013 before midnight on 31 December 2012 will be invited to attend the announcement of the prize winner at the Gill stand at the London Boat Show on Saturday 12 January.