Introducing our 2020 Collection in partnership with Musto, our long-term apparel sponsors, and Crew Kit of Cowes. Our unique design features an AP over an AP flag, signifying that racing is postponed, but not cancelled - Cowes Week will be back in 2021!
To support our Official Charity, Scaramouche Sailing Trust, a contribution from each item ordered will be donated to help fund their fantastic work. This year, there is a bespoke service available to add your boat name or chosen graphic to the official garments. Crew Kit will brand each piece to order in their studio on The Parade in Cowes. For more information, view the order form or contact Jo at Crew Kit.
Sardinia Jacket 2.0
True Navy : £140
Incredibly versatile high-performance waterproof and breathable jacket. This Sardinia Jacket offers lightweight protection, with a technical mesh lining for enhanced comfort against your base layer. Detachable and adjustable hood with a stiffened peak and two zipped pockets and a chest pocket.
Available in mens and ladies fit.
Crew Soft Shell Jacket
True Navy : £120
Stay protected, comfortable and stylish in this Crew Soft Shell Jacket. Its water-resistant design, as a result of a durable water repellent coating will ensure that you'll stay warm and dry when exposed to light showers outdoors. Keep small essentials close to hand by stowing them in the sleeve pocket.
Available in mens and ladies fit.
Sadinia Gilet 2.0
True Navy : £100
The perfect gilet for enjoying time on and off the water! This new gilet provides exceptionally balanced and breathable waterproof warmth using the combination of Musto's stringent BR1 standard fabric and the Arctec 160 microfleece. Two zipped side pockets and zipped chest pocket
Available in mens fit.
Cotton Pique Polo
True Navy : £40
A timeless cotton polo, great for everyday wear, especially to the sailing club! Garment features a ribbed collar and cuff for comfort next to skin in a relaxed comfortable fit. Stepped hem is longer at the back with side vents.
Available in mens and ladies fit.
Evolution Sunblock Long Sleeve T-shirt
True Navy : £40
Keep those rays away! Constructed from UPF 40 treated fabric that shields you from the sun's harmful UV rays, this Evolution Sunblock Long Sleeve T-Shirt offers superior protection in sunny weather and is fast drying. The cotton blend t-shirt combines outstanding comfort, breathability and durability in the form of a versatile, lightweight top.
Available in mens and ladies fit.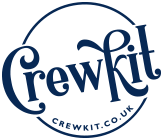 Crew Kit are a Cowes based company specialising in producing high-quality branded team clothing for sailing crews, regattas and yacht clubs. Their studio offers an in-house solution to design a unique logo or graphic to make crews stand out from their competition. Each item is individually branded in their studio on The Parade in Cowes, to deliver an excellent quality product.