08:59 Saturday 17 Aug 2019 CWL/Sue Pelling

Sunsail success at Cowes Week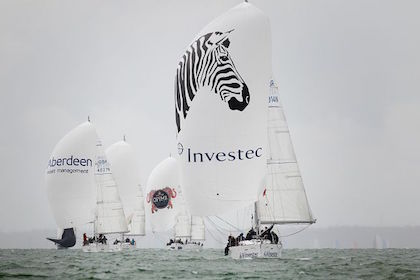 Sunsail's Investec Cowes Week Finance Challenge has once again proved a huge success with a total of 12 boats from financial institutions racing within the 20-boat Sunsail Match F40 fleet.
Launched in 2014, the Challenge has become hugely popular as a platform for financial institutions to race against one another in friendly, yet competitive racing within the regatta on a level playing field aboard identical Sunsail Match F40 racing yachts.
Ths Sunsail Match F40 fleet in general is also a great way for regatta sponsors, who don't necessarily have previous sailing experience, to get out on the water and participate. Official Cowes Week Gin, Slingsby were out racing most days and finished a respectable 11th overall in class.
Taking place from Monday to Friday of the regatta, the Cowes Week Finance Challenge racing has been exceptionally close with teams from the finance sector including Tenzing and Investec dominating the top of the overall Sunsail Match F40 fleet.
Simon Boulding – Sunsail Events Director commenting on the Challenge said: "Since its launch five years ago it continues to attract a large contingent of finance businesses who see it as an attractive way to do team building, raise their profile, and carry out client hospitality."
Chatting about how chartering a boat with Sunsail at Cowes works, Boulding added: "We have our own dedicated events team so people book direct with us and then we do complete event management for them. We organise the yacht charter, any professional crew requirements, and catering. We also have our own hospitality area here at Cowes so the teams can just turn up, have a morning briefing and return for après sail drinks and prize givings, often with celebrity involvement. Ollie Phillips – former England Rugby Seven's captain, who has also sailed the Clipper Round the World Race, and who is a Sunsail ambassador has been among the celebrities presenting prizes this week."
Boulding believes that the improvement of the standard of racing in the fleet in the last few years is down to the thorough vetting process. "The Sunsail fleet is a very competitive and well-sailed class, which is a result of our thorough vetting process. Anyone applying to enter the bareboat sector has to submit skipper and first mate CVs because we require two competent sailors on the boat. Although we like them to be qualified, we put more emphasis on experience, so we need to see what experience they have in tidal waters, and racing in tidal waters, and importantly how many skippering days they have behind them.
As he stepped ashore this afternoon having won the final race of the series, the Cowes Week overall series and the 2019 Sunsail Investec Cowes Week Finance Challenge, navigator Christian Hamilton was keen to share their thoughts: "Today's final win was particularly good today and made up for my navigational error yesterday, when I took them to the wrong mark. We had a great breeze today but it wasn't survival and therefore everyone really enjoyed it
"We had a good start in the tide and once we got ahead we did a good hoist and we were able to really settle in to some good crew work on the long six mile leg.
"We get a selection of people down from our company, a few of our clients and it's great because it shows great communication and also shows what happens when things go wrong, and how they deal with it. I also think the clients like to see how the teamwork works outside the office, so really useful.
"I'd also like to mention that Sunsail have done an amazing job with organisation and importantly all the boats held up and the really strong winds were a real test of that."