08:51 Saturday 17 Aug 2019 Sue Pelling – CWL

Day 8 Preview – final day of Cowes Week 2019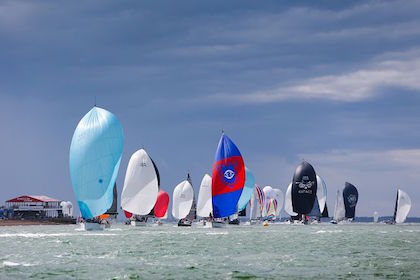 Racing continues at Cowes Week today with the Cowes Town Regatta. Although all classes in the Cowes Week series for Black and White Groups concluded yesterday, a good turnout for the final day of Cowes Week is expected with a start time on schedule at 1010 with IRC 1.
Courses
All classes will start to the west, hook round on the lower part of Peel Bank and finish on the Royal Squadron line in the early afternoon.
The start sequence today begins with the largest Black Group yachts at 1010 and concludes just before 1200 with the smaller White Group dayboats. Relatively short courses will be set, so the first finishers can be expected around 1230.
Weather
Today will see a return to dry weather with long sunny periods and only a low chance of an isolated shower. Winds will be mostly a perfect 12-18 knots from the west southwest, although gusts will increase in strength after racing has finished.
Activities
Cowes Week activities continue around town all day with music at all main regatta venues including Cowes Parade, Cowes Yacht Haven and Shepards Marina. Given it is the final day, and the sun is shining, the High Street is expected to be busy once again. Northwood House is also expected to be busy with Afternoon Teas on the Eastern Lawn running from 13:00-22:00.
The concluding big social event of the day is the Cowes Town Regatta Day overall prize giving at Cowes Corinthian YC, which starts at 18:00.