17:36 Friday 16 Aug 2019 CWL/Sue Pelling

Whooper the 80 year old wins Black Group overall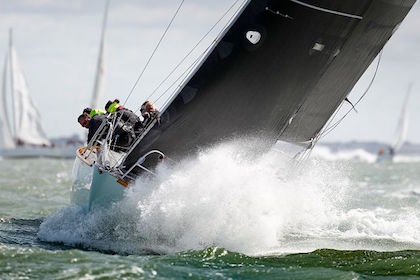 Giovanni Belgrano and team aboard his 1939-built Laurent Giles designed classic Whooper has won Black Group overall with a string of impressive wins in IRC Class 6.
Belgrano was naturally delighted with his win but said it was exceptionally tough particularly in the highly competitive fleet.
Commenting on his final race win, Belgrano said: "We had to sail well today because GR8 Banter, our closest rival in fleet, was getting stronger and stronger all the time. We were pushed hard. We had a good start and played a few nice shifts to get ahead then, on the long downwind leg we had to make a big decision about which spinnaker to use so we decided to 'go big or go home'. It was risky and we were rolling around a bit but it was the right decision.
"We managed to round the bottom mark ahead of a group while the bunch behind us got stuck so we made a bit of time up there. We knew if we didn't sail smart we wouldn't win."
On his overall win of Black Group for the second time, Belgrano added: "Well, what can I say. We are delighted to win. Actually, winning was our key focus of the week but it was a long grind. Although we planned and prepared well for it, it was tough and it was all about not making mistakes.
"There is no doubt that our win was 100 per cent down to rock solid navigation, preparation, and importantly, fantastic crew work."