12:15 Friday 16 Aug 2019 CWL/Sue Pelling

Big turnout expected for the final day of Cowes Week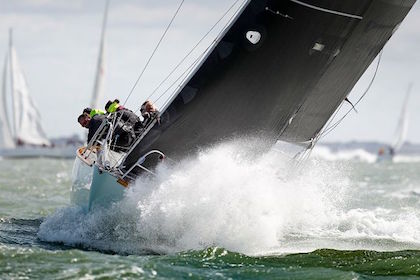 It's full steam ahead for Cowes Week tomorrow with racing continuing for the Cowes Town Regatta. For the first time ever, Cowes Week points series will end today (Friday) for all classes, not just Black Group, leaving a clear 'playing field' for racing in this historic regatta, which dates back to 1867.
Formed by a committee of local members of Island SC, Cowes Corinthian YC, East Cowes SC, and Gurnard SC, Cowes Town Regatta is an important part of Cowes Week that historically takes place on the final Saturday.
Chatting about the reasons why Cowes Week Ltd took the decision to change the format with the Cowes Week points series concluding on the Friday, Laurence Mead, Regatta Director commented: "Cowes Town Regatta is absolutely tied with Cowes Week and we want it to carry on that way.
"The change is for practical reasons. With half the fleet already (Black Group) finishing on Friday and the other half the fleet (White Group) finishing on Saturday, we had no end to the points trophy, so finishing everybody on Friday from a Cowes Week points perspective, made sense."
Mead also believes the change will have a positive effect on Cowes Town Regatta: "It effectively becomes a standalone regatta within Cowes Week, with separate trophies. This provides an opportunity for something a bit different, maybe the bowman steers, or the owner's wife steers, or the under 25 member on board gets to have a go. We want to turn it into a family race day.
"It is included in the entry fee of Cowes Week anyway, so it is a free day of racing, so my advice is to go out and enjoy it. We are actually thinking about making it two races in the future, so we could have a morning race, come in for lunch, have an afternoon race then a big party in the evening. There are all sorts of options for the future."
Even though the weather forecast is not particularly favourable tomorrow, a good turnout is expected for Cowes Town Regatta. Mead continued: "We generally get about 150 boats out on the Saturday so it is certainly larger than most regattas on the Solent on Saturdays, so if we could keep that up to a couple of hundred boats or more in the future, it is a brilliant way to end the week."
Concluding a successful week, Cowes Town Regatta prize giving will take place at Cowes Corinthian YC at 1800 on Saturday.