10:18 Friday 16 Aug 2019 CWL/Sue Pelling

Day 7 preview – Red Funnel Fireworks on schedule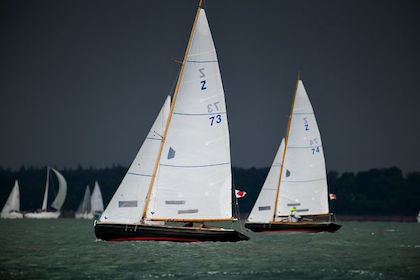 Cowes Week looks set develop into a wet and windy day today, so the priority is to get racing for all classes wrapped up as soon as possible. Also, for the first time ever, Cowes Week points series will end today (Friday) for all classes, not just Black Group, which means the overall prize giving will also take place this evening. Don't forget though, racing will continue tomorrow here at Cowes for the Cowes Town Regatta trophies, with a prize giving later that evening.
The big social event of the week is the grand Red Funnel Fireworks that will take place tonight despite the inclement forecast. Blast off is at 2130.
Weather
Winds today will increase significantly by late afternoon and this evening, so the intention is to get all classes started on schedule, though with relatively short courses so that racing is completed by around 1400.
The south-south-westerly wind direction means it feels deceptively sheltered on shore. The winds of 14-18 knots are expected to increase to 20-25 knots by 1400, as frontal systems move across the race area. The breeze will continue to build, with a possibility of gusts to 40 knots in the evening.
Courses
Black Group yachts scheduled to start from a fixed line will initially head west from the Royal Yacht Squadron line, before routing into the eastern Solent and finishing on the RYS line from the east. The Black Group committee boat will be stationed near Browndown, towards the north shore of the eastern Solent.
White Group dayboats will start from the Castle Point line, to the east of East Cowes, before finishing on the Breakwater line off Cowes Parade.
Activities
Despite the weather, the Red Funnel Fireworks will go ahead tonight. Red Funnel are celebrating 50 years of continuous high-speed service between Southampton and West Cowes and to mark such a big anniversary, and to extend thanks to its customers and staff, past and present, they will be lighting up the skies this evening. To enhance the legendary pyrotechnic extravaganza experience, you can listen to the accompanying music on Cowes Radio 87.9fm.
The event is likely to attract thousands of spectators, so the best places to view the display ashore are Cowes Parade, Castle Hill, Princes' Green as far as Egypt Point, and East Cowes Parade.
Those watching the fireworks from the water are encouraged to mark the start of the display by responding to a ship's horn blasts.
However, due to the weather sadly the RAF Typhoon Display team has had to be cancelled.
Elsewhere in Cowes today there are plenty of activities in store with a range of music in all four main areas around town including Cowes Parade, Cowes Yacht Haven, Shepards Marina, and Northwood House. For children, the Treasure Hunt with the 1851 Trust continues, with plenty of exciting prizes up for grabs.