14:41 Thursday 15 Aug 2019 CWL/Sue Pelling

In top gear at Land Rover Activation Area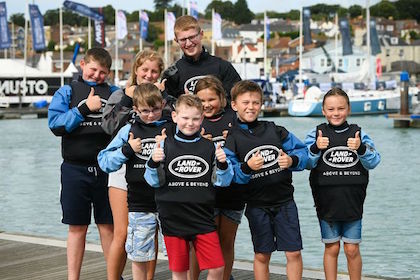 The Land Rover Activation Area is bigger and better than ever before with crowds of visitors joining in the fun. One of the most popular features is the Land Rover Sailing Experience for youngsters. The young sailors, many who have never sailed before, are fortunate enough also to have Sarah Ayton double Olympic sailing gold medallist running coaching sessions
Jonathan Walls Jaguar Land Rover Brand Experience Manager who was coordinating proceedings on the stand said there has been a huge buzz all week. "This is our second year of activation and sponsorship at Cowes Week and we are very glad to be here in a big way. Principally we are here to run our grass roots sailing feature giving children up to the age of 18, a chance to go sailing.
So popular is the feature that the queue stretched as far as the length of the stand this morning and those who signed up included a family from the Midlands. Walls continued: "Many have been invited by their local Land Rover retailer. It is completely free and from the feedback we've had, it has been a real highlight of Cowes Week.
Land Rover owner, Pradeep De Silver, and his family including his two young daughters – Sehansa and Sethmini from London travelled to Cowes for today's hospitality.
Sehansa (15) chatting about her experience of her first ever sail commented: "It was very enjoyable. We headed out into the Solent and were transferred to a keelboat. We had a great sail and I really loved it. It was a good introduction to sailing and I would really like to have another go."
Her sister Sethmini (8) who'd also never been on a boat before was delighted she put her hand up to helm the boat. "The lady coaching us asked who wanted to steer the boat and I said yes. I really like it and I was able to watch all the other boats sailing too. I am going to join my sister on another sailing trip one day. The best bit was driving the boat."
Other features of the Land Rover Activation Area include the Rope Pull Challenge that offers the chance to test strength, and win prizes, and the Land Rover Experience.
The Land Rover Experience is also a big hit with 3L Diesel Land Rover Discoveries (with eight automatic gears and air suspension) being put through their paces on the Dynamic Display Equipment (DDE). This interesting feature allows visitors to the stand a chance to test the capability of the vehicles over a series of obstacles, and to appreciate the hill decent control down a 40-degree slope.
Around town, it is possible to see the new Range Rover Velar, the 2017 Design Car of the Year, on display outside the Royal Yacht Squadron on Cowes Parade. The new Range Rover Evoque, the Discovery, and the new Range Rover Plug-in Hybrid are on display on the stand.
Finally, the Sailor Breakfasts, from the airstream trailer on the stand is hugely popular as is the hospitality area for Land Rover owners. Wall concluded: "If you are a Land Rover owner and you bring your Land Rover car key to the stand you can enjoy the privilege of hospitality and enjoy our legendary burgers and coffee."