11:23 Thursday 15 Aug 2019 CWL/Sue Pelling

Hong Kong Connection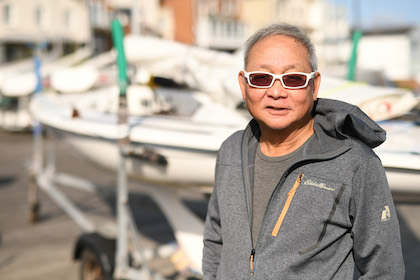 Sam Chan (71), from Hong Kong, is a regular visitor to the regatta and the perfect ambassador for overseas visitors. He flies into the UK for Cowes Week every year and competes with his good friend Nick Atkinson sailing his Flying 15 Freefire 20.
Just before he launched his boat for today's racing he told us how much he enjoys the regatta and how he was persuaded to become a regular competitor.
"I was competing at a world championship many years ago and my English friend Nick Atkinson told me 'you have to come to Cowes Week', so I did. I've been coming ever since.
"I fly here just for Cowes Week every year and I love it. Nick, who is English but also lives in Hong Kong comes over too and crews for me. He is very loyal and he has been sailing with me most years."
Freefire 20 is a beautiful example of a Brett Dingwall-built carbonfibre boat from 18 years ago, using a Pinnell & Bax jib and Goacher main. Explaining how keeping a boat in the UK for use once a year works, Chan said: "I actually share the boat with a member of Cowes Corinthian YC. I know I only use it once a year for Cowes Week, my boat partner enjoys it the rest of the year and, of course, has to deal with all the maintenance. Consequently the boat is always here, which makes it all very easy for us."
Back in Hong Kong, Chan races his TP52 on a regular basis but says there is something special about the Flying 15. "For a start we are the same age! The Flying 15 was born in 1947 and so was I. It is a great boat to sail, albeit a more wet that the TP52, and the competition is always good."
As he went into today's race, he was lying in third overall in class, 10 points behind the superfast 18-year-old Will Heritage on Freddie Flintoff, who is sailing with his father – boatbuilder David Heritage.
Commenting on his results over the years, and this week in particular, Chan said: "My best result over the years is a second. We've not won it yet. We were doing well at the start of this week but yesterday we had a bad one and, with no discard due to losing two races earlier in the week, we now might have a problem."
After an exciting time at Cowes Week, Chan is preparing to head home after racing. "I fly back to Hong Kong on Monday after a quick visit to friends in London. I will then be back on the TP52 for the rest of the season."