09:53 Thursday 15 Aug 2019 CWL/Sue Pelling

Day 6 preview – sun sparkles over Cowes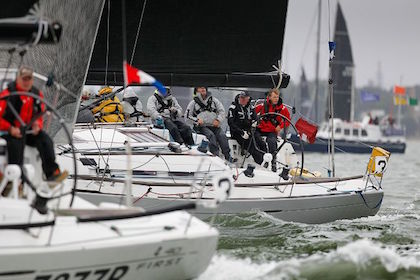 The sun has made a welcome appearance over Cowes this morning with a good breeze increasing up to 25kts later in the day, which should make for some exciting racing on the Solent. Racing is currently on schedule.
Now in the closing stages of the series, with just one day to go, class leaders are starting to emerge, which means racing for those all-important points will be even more intense today.
Weather
Today sees a return to sunnier and drier weather with a brisk, but not excessive, airflow. A westerly of 12-18 knots, with gusts of 20-25 knots is expected through the morning. This will then back slightly to the west-south-west around lunchtime with the strongest gusts slowly moderating to 20 knots by the end of the afternoon. It's the intention to set longer courses today than in yesterday's wet and windy weather.
Courses
Black Group yachts scheduled to start on the Bramble line will initially head to the west. The Black Group committee boat will be stationed towards the eastern end of the Hill Head plateau.
White Group dayboats will start on the Royal Yacht Squadron line, with the first six starts heading towards the west, before the line is reversed and boats start to the east. The line will then be reversed a second time for XOD and multihull classes. XODs are scheduled to have two races today, the second from a committee boat line.
Activities
One of the most popular activities in Cowes today is the Land Rover Sailing Experience. As the official Vehicle Partner to Cowes Week 2019, Land Rover is celebrating its partnership by providing coaching sessions with Sarah Ayton MBE – Olympic Sailing Gold Medallist – for youngsters. Sign up at the stand in Cowes Yacht Haven.
Elsewhere, there is the Treasure Hunt with the 1851 Trust from the stand on Cowes Parade, which runs from 1000-1600. Music and bands around town kicks off with Martin Newnham on Cowes Parade at 1430.
At 1230 at Northwood House it's the Northwood House Charitable Trust Ladies Lunch. For tickets telephone 01983 293642.