15:07 Wednesday 14 Aug 2019 CWL/Sue Pelling

Antigua brings sunshine to Cowes Week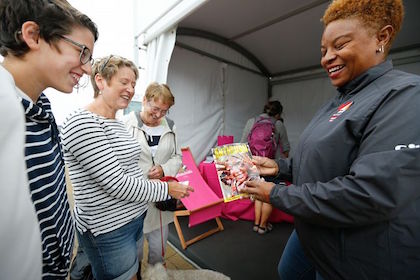 Youth Day at Cowes Week is always popular but the fact that there are two significant trophies up for grabs (Under 25 Trophy presented by Antigua Sailing Week, and the Musto Young Skipper's Trophy) for the overall winners at the end of the week, means competition is exceptionally intense.
As well as it support of the Under 25 Trophy this year, the Tourist Board of Antigua has been here in Cowes Week in force this week promoting the beautiful sailing waters of the West Indies.
The pop-up stand on Cowes Parade appears to have been a huge success and the perfect way to promote Antigua's Youth to Keel Boat Programme (Y2K), an incentive to help bridge the gap for dinghy sailors making the leap into keelboat sailing.
Rana Lewis – Event and Marketing Manager for Antigua Sailing Week – said: "We are really pleased to be here supporting youth development and sailing here at Cowes Week and promoting Y2K.
"The Y2K programme was launched two years ago and was developed to create a pathway for Antiguan dinghy sailors between 13-25 years old to get into big boat sailing. In the first year of the Y2K initiative during Antigua Sailing Week we had about a dozen children, and last year we had 30 so it has seen a huge leap."
Antigua Sailing Week's promotional visit to Cowes two years ago resulted in the Greig City Academy youth team being invited to take part in the Y2K regatta at Antigua Sailing Week. This year, the winning helmsman of the Under 25 Trophy will be the honoured guests in Antigua.
Lewis explained how the winner's visit will work: "The winning skipper of the Under 25 Trophy and their guest will be presented with two flights, accommodation and transfers and, depending on their experience and interest, we'll pair them up with one of the entrants at Antigua Sailing Week. They could therefore be on anything from a maxi to a smaller keelboat."
Looking ahead to this evening's Caribbean-themed entertainment, all youth sailors who registered with their entry have been invited to a reggae party at the Sugar Store nightclub at Shepards Marina for a chance to network, swap stories and dance the night away.