12:12 Wednesday 14 Aug 2019 CWL/Sue Pelling

Inspirational Greig City Academy youth team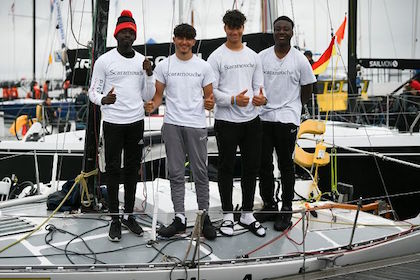 The Greig City Academy youth team made its first appearance as spectators at Cowes Week five years ago. Now, with students competing on three boats including Scaramouche, Lutin, and their own fully restored E-Boat Eros, it is clear to see how the team has progressed.
Fresh from competing in the Rolex Fastnet Race in the Academy's boat Scaramouche, the group of four students who masterminded the restoration of their 1981 Julian Everit-designed E-boat, were keen to chat about how they made it to Cowes Week with their own boat.
The four teenagers said having never sailed before they are so grateful that their school, the Greig City Academy, has given them the opportunity. They are also really happy they have progressed to a stage where they were able to actually restore and sail their own boat here at Cowes Week.
Azat Ulutas (18) commenting on the regatta said: "It is probably one of the best sports in the world in a sense that I can compete against some of the top sailors in the world. If I was to play football at my level I can't go and compete against Ronaldo for example but with sailing it is possible to compete against Ben Ainslie. It is amazing."
Having progressed through the school's sailing programme, sourced and restored their own boat, team Eros is currently lying second overall in the Ed Whelan Celebration Trophy for school teams
Chatting about the boat and how they completed the project in just eight months, Ulutas said: "Initially we bought a McGregor 22 off ebay for £500 with an ambition to do the Round the Island Race, but we found out there was a problem with our keel too far forward and loads of other problems with the boat. This is an E-Boat 22, which we got hold of through our links with Etchells sailing. It was an absolute wreck in a school field but we saw potential in it and decided to give it a go.
"We played about with ratings, smaller jibs, bigger jibs, bigger spinnakers and we totally stripped out the inside, so we spent a lot of hours on it.
"Unfortunately because we just did the Fastnet Race, we didn't get much time to prepare for Cowes. The last time we sailed it was the Round the Island Race, so we took a while to sort out the boat this time. In the big winds on the opening day we had a few breakages including the top of our winch coming off."
Team member Victor Emovon (17) is a first timer at Cowes Week. "I think being here is a really big experience particularly sailing against all levels of experience. It is also good to come into contact with all these new people because you can learn from them too."
Seasoned sailor Sean Williams was keen to recall the fantastic time the team had at Antigua Sailing Week two years ago.
"We were fortunate enough to be invited to Antigua Sailing Week by the organisers to take part in Antigua's Youth to Keel programme. It was good and probably one of the best experiences I've had because I learnt a lot there."
John Holt – the brainchild behind Greig City Academy's racing programme talking about what the team has gained over the recent yacht restoration programme, concluded: "It is really good training for them and one of our key aims is to try and get it so these boys can progress in the sport and hopefully allow them to race on other boats and possibly move into the marine industry. So, the actual boat maintenance and the preparing of the boat is as important as the racing is."