09:50 Wednesday 14 Aug 2019 CWL/Sue Pelling

Day 5 preview – Youth Day Presented by Antigua Sailing Week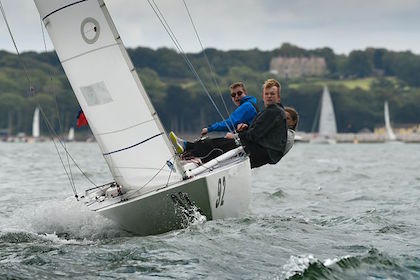 Despite the damp conditions there are plenty of positive vibes around town this morning for Youth Day presented by Antigua Sailing Week. It is also the halfway stage of the regatta, which means competition across the board is beginning to intensify.
The big ones to watch out for today are the youths contesting the Under 25 Youth Trophy presented by Antigua Sailing Week, and the Musto-supported Young Skippers Trophy. It is also the final day of racing for the Triple Crown Series with Sir Peter Ogden and team on Jethou hoping to secure the overall win.
Weather
Today will see wet and blustery weather over the Solent, with a number of weather fronts crossing the race area.
Winds in the heaviest rain may be suppressed, but any dry spells between fronts will allow mixing of the stronger upper level gradient winds to reach the surface, creating gusts in the 26-32 knot range.
The direction will slowly veer from southerly to south-westerly during the day. By evening the rain will clear to drizzle, before becoming dry later.
Courses
The plan is to get everyone racing if possible, but the situation will be monitored throughout the start sequences and all lines will be flying the Y flag, indicating mandatory wearing of lifejackets.
The Black Group yachts starting on the Bramble line will head to the west, while White Group dayboats will head to the east from the Royal Yacht Squadron line.
Activities
Visitors to Cowes Week can expect a full day of activities starting at 1000 with the 1851 Trust Treasure Hunt, which starts from the Trust stand on Cowes Parade.
Cowes Yacht Haven, Shepards Marina and Northwood House are also running activities including (at Northwood House) the Vectis Historic Vehicle Club Car Display. While you are there, don't forget to enjoy an afternoon tea or cocktail at the Lawn Lounge & Gin Festival.
Evening entertainment continues with bands in all locations. And, as well as the bands, there's also the Electro Love Night Club at the Event Centre in Cowes Yacht Haven, and Sugar Store Nightclub at Shepards Marina, both of which run from 2200 until 0200.