22:04 Tuesday 13 Aug 2019 CWL

Lucy Macgregor Scoops Slingsby Ladies Day Trophy at Cowes Week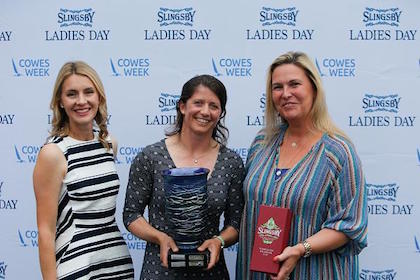 Lucy Macgregor, has been announced as the winner of the Slingsby Ladies Day Trophy at Cowes Week. The trophy recognises the outstanding contribution, commitment, or achievement of women in sailing.
The annual Ladies Day returned to Cowes Week on Tuesday 13th August, this year supported by the Official Gin Sponsor Slingsby, with a number of celebrations culminating in the announcement that Lucy Macgregor was the winner of the Slingsby Ladies Day Trophy at an exclusive evening reception held at Northwood House.
The trophy was introduced for the first time in 2006 to champion the role of women in sailing and the sheer number of female competitors racing at Cowes Week. There are some 8,000 competitors taking part in the regatta this year and around a third of them are female.
Lucy Macgregor is an Olympian and four-time World Champion in Women's Match Racing – in the USA in 2010, Finland in 2017, Russia in 2018 and just a few days ago in Lysekil, Sweden. In May this year, Lucy and her crew finished fourth at the Argo Group Gold Cup in Bermuda - a Grade 1 (open) matching event. They are the only team for two years running in the event's 68 year history to make the semi-finals with a female helm.
Commenting on the win, Lucy Macgregor said: "It is brilliant to win this, I certainly didn't expect it. In terms of the world championships we've been doing recently, I certainly couldn't have achieved this on my own. There are a lot of girls who have been part of it.
"I know I have a lot of good friends who have won it before, so it is nice to be a part of that gang and see so many people here supporting the event and celebrating."
Nominees for the trophy also included Nikki Henderson and Hannah Mills, both extremely deserving nominees. Nikki skippered Visit Seattle to second place in the 2017/2018 clipper Round the World Yacht Race just two days after her 25th birthday. She was the youngest skipper in the Clipper Round the World Yacht Race history. Hannah Mills, MBE is now a two-time World Champion in the Women's 470 class, having won in 2012 and 2019, just last week in Enoshima, Japan. Hannah won a Silver Medal in the 2012 Olympics and won Gold at the same event at the 2016 Olympics in Rio de Janeiro.
In addition to the Ladies Day trophy, the new Slingsby Best Female Helm Trophy was presented to Dawn Bee racing on Haggis 2 as the female helm out racing with the best overall result.
Commenting on the evening Kate Johnson, CWL's Commercial & Marketing Director said: "We've enjoyed a fantastic evening and we were absolutely delighted to announce Lucy as this year's winner. She is a shining example of what women can achieve. An out-and-out competitor, she embodies the spirit that underpins Slingsby Ladies Day at Cowes Week and is a thoroughly deserving winner. All our congratulations to her. We've been thrilled to see so many women racing this year with our youngest female helm today aged only 12 – one to watch!"
On the shore Slingsby Ladies Day at Cowes Week was celebrated in style. Women showed their support for Ladies Day by wearing traditional seafaring navy-and-white stripes and enjoying many generous sponsor giveaways both on and off the water.
Claire Gibson, Marketing Director at Slingsby said: "We are delighted to be part of one of the UK's longest running sporting events and to be able to put our name to the incredible 'Ladies Day' which does such a great job of celebrating women in sailing. Bringing a touch of Yorkshire to the highly successful regatta is also brilliant and a huge congratulations goes to Lucy on her win today! We hope she has been able to celebrate in style with a refreshing Slingsby G&T!"