15:54 Tuesday 13 Aug 2019 CWL/Sue Pelling

The Magenta Project embraces Slingsby Ladies Day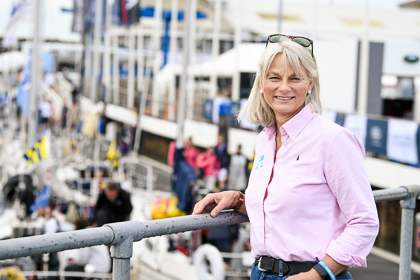 Members of the Magenta Project that was launched in 2015 by some of the sailors of the all female Team SCA who successfully competed in the 2014-15 Volvo Ocean Race campaign, are in Cowes today to support Slingsby Ladies Day.
Elaine Penhaul, the recently appointed Chair of The Magenta Project was keen to highlight the fact the organisation now has charitable status. As the new face of the organisation, Penhaul was out and about around the dockside, and preparing for the Magenta Project promotional event and launch of the 2019 International Mentoring Programme later today.
Chatting about the aims of the project, Penhaul said: "We aim to help female sailors make the transition to the next level of their career. For example we help them make the move from dinghy sailing into keelboat racing, or from keelboat racing to offshore racing. Then if that is somewhere where they come up against barriers, then contacting the Magenta Project can help link up sailors with opportunities.
"We are also looking at working with our main stakeholders so the RYA would be an example of that as to how we can help more clubs become more female friendly because some clubs are still more traditional in their approach."
As keen sailor and businesswoman, Penhaul appears to be an ideal choice as the first ever chair of the project. "I learnt to dinghy sail at 14-15, and then was lucky enough to work in Greece in the very early days of holiday centres being set up. From there I became an RYA senior instructor and then an RYA coach assessor and trained dinghy instructors, so very much have a background of understanding of that part of the industry.
"I took my coaching background into my own business and because the company has done a lot of work involving culture change particularly in police work, I believe that is the reason I was appointed as chair."
Chatting about the Magenta Project Cowes Week party this afternoon, Penhaul concluded: "It is a social Q&A session at the Sugar Store post sailing [1600-1800] and we are keen to answer questions. We'll also be kicking off our 2019 International Mentoring Programme. We ran the first one last year, collated the feedback and that shows we've had a very successful year matching up mentors and mentees for women who particularly want to get to the next level of sailing."