10:29 Tuesday 13 Aug 2019 CWL/Sue Pelling

Day 4 preview – Slingsby Ladies Day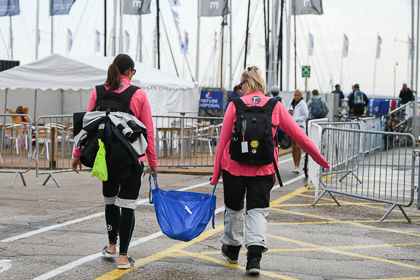 The overcast start early this morning here at Cowes did none nothing to dampen spirits around town on Slingsby Ladies Day.
Now in its 13th year, Slingsby Ladies Day, which celebrates women in sailing, is now one of the key features of Cowes Week.
The highlight of the day's celebrations will be the presentation of the Ladies Day Trophy at a reception this evening and, those on the water and around town, are encouraged to dress nautically in the traditional seafaring navy and white stripes.
Thanks to Slingsby Gin, there'll also be plenty of goodies to win around town and on the water so watch out for the Ladies Day RIB team who will be distributing prizes post racing. There's also a chance to win the Best Female Helm Trophy for the best result today.
Racing situation
Skies will slowly clear after an early morning band of rain. A westerly breeze of 8-12 knots is predicted at the time of the first starts, although this may be modified by further patches of rain. The breeze will then swing slightly towards the west-south west and gradually build during the afternoon, eventually reaching a maximum of 14-18 knots.
The intention is for most White Group dayboat classes to start heading to the east from the Royal Yacht Squadron line, before finishing on the Breakwater line off Cowes Parade. The exception is for the XOD class, which will have an upwind start, before heading back to the eastern Solent.
Black Group yachts scheduled to start on the Bramble line will head to the west, before finishing under spinnakers on the RYS line.
Activities
The selection of interesting shops, stalls and Ladies Day themed events around town including along Cowes Parade, Cowes Yacht Haven, Shepards Marina, and Northwood House offers a perfect opportunity to soak up the festive atmosphere at this iconic British regatta.
Check out the Slingsby pop up bar on Cowes Parade to test out the award-winning gins, or head to the Fever-Tree Bar in Cowes Yacht Haven where the Slingsby selection of fine gins will be on offer there too.
For a chance to win some great prizes, Ladies wearing themed Ladies Day striped shirts should make themselves known at the Spinnaker Bar on Cowes Parade and enter the prize draw.
Need some new deck shoes? Now is the time to make the most of Chatham's special Ladies Day offer of a £10 discount on any purchase over £100. The pop up stand is located on Cowes Parade.
Elsewhere around Cowes Northwood House is presenting the Wind in the Willows at the Quantum Theatre at 1130 and 1500 and, for car lovers, there is a display of MGs courtesy of the Isle of Wight MG Car Club, which runs from 1100-1600.