14:20 Monday 12 Aug 2019 CWL/Sue Pelling

Sign up for a charity Fine box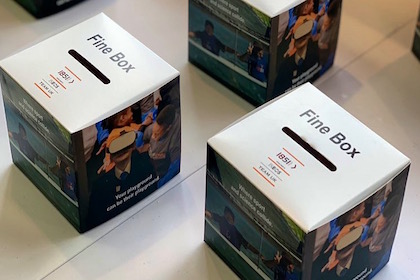 The 1851 Trust – Cowes Week's official charity – has come up with a fun way of raising funds for the week's £30,000 target.
The Fine Box, available free of charge from the 1851 Trust stand, gives crews an opportunity to raise funds to help give 800 young people an opportunity to go sailing on the Solent in 2020.
As well as onboard their boats, the boxes are proving popular in crew houses where apparently they are filling up fast!
The 1851 Trust has left the 'rules' of the box open for crews to decide how/when to impose penalties but swearing is always a popular option. Penalties on board can also be put into force for commonly raised issues such as over-sheeting, or failing to arrive at the boat at the arranged time in the mornings!
Once your Fine Box is full, ideally £40 plus, crews can hand over the cash at Drop off points at the end of the week at the following locations: Cowes Week Regatta Centre, Cowes Yacht Haven, Cowes Harbour Commission (during opening hours).