11:44 Monday 12 Aug 2019 CWL/Sue Pelling

1851 Trust Official Charity prepares to raise £30,000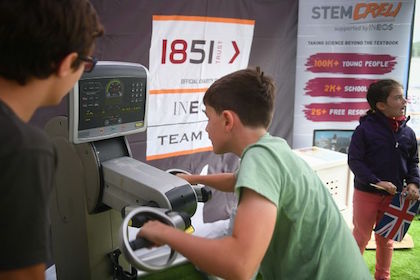 To showcase the 1851 Trust – Cowes Week's official charity – and help raise substantial funds, there are plenty of activities to get involved in on Charity Day.
The 1851 Trust aims to inspire and engage the next generation through sailing in education at schools and is here in force at Cowes Week showcasing its key incentives.
To help raise the Trust's target of £30,000 this week, the activities on the 1851 Trust stand includes the Treasure Hunt, which is proving a popular feature with crowds of youngsters pacing the streets of Cowes in search of the 'next clue'. With so many prizes on offer including water bottles, and Musto caps, it's worth signing up for a chance to win.
The other popular feature on the stand on Cowes Parade is the Coding Challenge where youngsters as young as seven can put their programming skills to the test.
The grinding challenge, which measures wattage over a minute, is also a big hit. The current fastest time to beat (494 watts) established by Rhos, one of the super-fit SailGP grinder triallists.
Youngsters looking for a challenge today might like to have a go at beating the current leader – Eva Mitchell – in the Under 16 challenge who has a score of 82.
Ben Cartledge, 1851 Trust CEO, in summing up the working of the Trust explained: "We bring sailing into core curriculum STEM subjects where we can we get people out on the water to put their learning into practice.
"The Trust's focus is working with schools and sailing centres to take the science of sailing beyond the traditional text book to get young people out on the water."
The Trust's Go Sail programme provides an activity day for schools which not only gives their students a chance to spend half a day out on the water but also provides them with a fun educational visit to the 1851 Trust base at the home of INEOS TEAM UK where they can be inspired about the science and engineering that goes into America's Cup racing.
Watch out for news of the youngsters attending Cowes Week on the Go Sail programme on Wednesday aboard two different yachts.