09:43 Monday 12 Aug 2019 CWL/Sue Pelling

Day 3 preview – Charity Day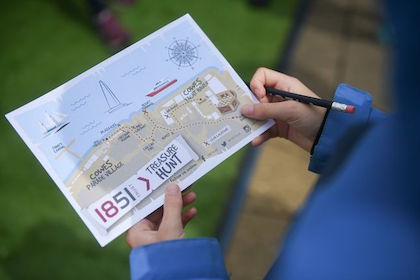 The third day of Cowes Week – Charity Day – looks set to be the best day of the regatta so far with more sensible winds to allow all competitors a chance to enjoy good sailing conditions of 12-14kts by mid afternoon.
Charity day has become one of the most well supported incentives at Cowes Week and the 1851 Trust – the official charity for the second year running – is a popular choice. To help the Trust raise funds to support its Go Sail programme, watch out for 1851 Trust-inspired features around Cowes today.
Courses
White Group will start from the Squadron line, going to west. The fleet will race in the western Solent and finish on the Squadron line.
Black Group will start on the Bramble line, head off on a short leg to the west then race in the Eastern Solent before finishing on the Breakwater line. The only exception is the Triple Crown fleet, which will finish on an extended Royal Yacht Squadron line.
Black Group Committee vessel will start somewhere in the region of Browndown and will race a similar track to the rest of the Black Group, also finishing on the Breakwater line.
White Group Committee Vessel, with the J/70s and SB20s, will start from the Squadron line, do a windward/leeward up on the bank and then the plan is to finish them on the Squadron line.
Outlook
Today sees a marked change in the weather, with light west to north-westerly breezes. The best wind is likely to be in the eastern Solent, where the north-westerly will funnel out of Southampton Water.
Wind speeds will increase slowly as the day wears on, rising from as little as 5-7 knots at the time of the first scheduled starts to 8-13 knots at the end of the afternoon. However there's also the possibility of some showers, particularly in the afternoon, that will modify the gradient wind on their leading edge and may leave extended calmer patches in their wake.
The first start today is for the largest yachts competing at the event – the giant 70-100 footers competing in the Triple Crown. They are scheduled to commence racing at 0955.
Charity Day activities
Activities lined up today include the 1851 Trust sailing inspired Treasure Hunt and plenty of other fun events based at the official charity stand on Cowes Parade.
Northwood House is also open as usual with plenty of fun activities including a chance to relax at the Lawn Lounge and Gin Festival, or enjoy afternoon tea on the Eastern Lawn.
Also, keep an eye out for other charity-themed events at Cowes Yacht Haven and Shepards Marina.