14:25 Sunday 11 Aug 2019 CWL/Sue Pelling

Families embrace the theme of the Day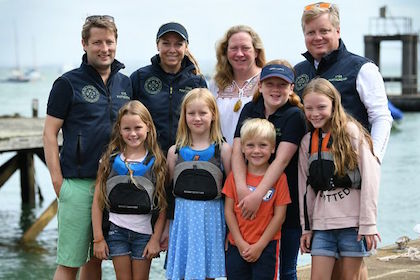 Over the last few years the appeal of Family Day has really taken off with more and more youngsters particularly keen to showcase how sailing at Cowes Week with the family can be great fun.
Jeremy Field and most members of his extended family are like many who use the event as the ultimate get-together. Field and three generations of his family, who own the locally based XOD Partnership says there's nothing better than having a houseful of kids, and close family all getting involved.
"The boat was grandpa's boat built in Lallows and has been in the family for a long time. She has been totally restored and now back to her original varnish finish. We loved the fact she was built in Cowes and the story goes she was built with some of the wood left over from Morning Cloud [Sir Edward Heath's boat]."
Jeremy's eldest daughter Georgina (11) pointed out that getting the whole family together doesn't happen that often throughout the year. She said: "Cowes Week is the highlight of my year and I just love being around all my family and my cousins. Everyone gets to sail, and everyone has a good time. We all have barbecues, go swimming. That is why it is one of the highlights of my year."
Chatting about sailing, she added: "I am learning about jib trim. I know that you can't pull it in all the way because that slows you down so it is important to keep concentrating on the woolies [telltales].
Another family making the most of the day despite no racing today was the Yates family sailing Star-born 4 Beneteau 25.7 in Cruiser Div D. The youngest member of the team, Tom Yates (10) said he really enjoys sailing with his grandfather Peter Dixon. "The best thing we did recently was to win the family trophy at the Round the Island Race. That was great. And we've been practicing regularly for this event at Island SC's Tuesday evening racing.
"I usually help in pit and help out with jib trim. My other important role is handing out sweets throughout the day. The next thing I am going to learn is how to pack the spinnaker."
Commenting on Family Day, Yates added: "It is a great way of getting children involved in sailing. Also, even though we are not sailing today, there are lots of things to do around town with all the family."