13:00 Sunday 11 Aug 2019 Rupert Holmes/CWL

Day 2 – Lunchtime update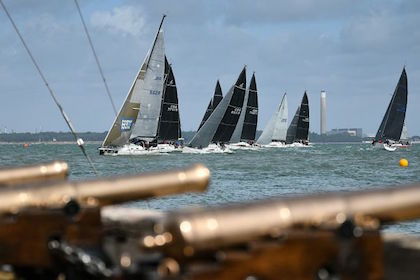 Racing is now underway for the majority of the Black Group yachts on a mostly sunny, but fast and furious day. The big boats in IRC Class 0 were first off from the Royal Yacht Squadron line, heading west into steep seas kicked up by a southwesterly wind gusting close to 30 knots and a strong west-going tide.
Later in the morning the gusts eased a little, but conditions remained beyond borderline for the dayboats in White Group, leaving race officials no option but to cancel racing for these classes.
Two finishing lines are in use today – one offshore to the north of the exclusion zone for this afternoon's SailGP racing, where the leading boats have already finished. The yachts that started from the Black Group committee boat in the eastern Solent this morning will finish on the Breakwater line that can be seen from The Parade. The first fleets expected there are IRC Class 5, followed by Quarter Tonners, from around 1320, with the finishing sequence expected to continue until a little after 1430.
Later this afternoon the six 50ft, 50-knot foiling catamarans competing in SailGP will be racing off Egypt Point, to the west of Cowes harbour.