15:03 Saturday 10 Aug 2019 Sue Pelling – CWL

Fat fish – the Final Straw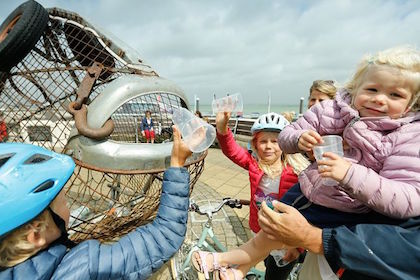 Visitors to Cowes Week enjoying a stroll at Cowes Parade Village today will undoubtedly have noticed the huge piece of metal artwork, used to collect single-use plastic bottles, glasses and cans.
The Final Straw, a sustainability organisation who are big advocates of creating eco-friendly events and re-purposing re-usable items whenever they can, has come up with this unique but effective idea to help in its mission to minimise the amount of plastic entering our local seas.
This whopping 6m long structure on the waterfront is constructed entirely from scrap metal including wheel arches, old boat trailers, the frames from old warehouse trolleys and old chicken wire.
Beth Taylor, who manages Cowes Parade Village said: "It is a fun way of helping the environment. The fish is already proving popular. It is a great place to dispose of already recycled plastic glasses from the bars on The Parade as well. It's double recycling and a good way of helping to keep the streets clean."