12:52 Saturday 10 Aug 2019 Sue Pelling – CWL

Water feature supports Sustainability Day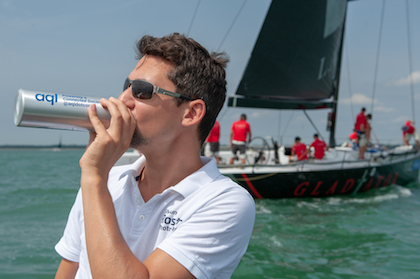 Sustainability Day on the opening day of Cowes Week gives a good indication of force behind Cowes Week Ltd's mission to ensure a more sustainable future for the regatta.
Having achieved a Silver certificate from the Sailors for the Sea 'Clean Regattas Programme' within the last 12 months, Cowes Week Ltd is proud of its achievement. The aim is to reduce the amount of plastic used and to help highlight its impact on marine wildlife and the environment.
For the second year running, aql – Cowes Week Official Communications Sponsor – has installed water sensors on the Sunsail-funded water fountains, which are located in Cowes Yacht Haven and Shepards Marina.
'Sensing Change' an initiative powered by aql, uses "Internet of Things" technology to detect and monitor the amount of water usage at the refill drinking fountain stations.
Last year over 2,500 litres of water was dispensed from each refill station in Cowes, saving over 5,000 plastic bottles per tap. This has shown the benefit of making public refilling accessible and reinforces the message of the Refill campaign, which is supported by aql and other sponsors.
aql tell us that, jointly funded with Cowes Week Ltd, last year they gave competitors 8,000 aluminium reusable drinking bottles and they are hoping to see many of these being brought back and re-used this year.
The installation of the Sunsail-sponsored water fountains, keep this campaign at the heart of the sailing community and it is hoped that this year aql will have the data to prove that competitors are becoming more dedicated year-on-year to drive sustainable change.
Professor Adam Beaumont, Founder and CEO of aql and Trustee of the Eden Project, concluded: "As a sailor, I believe that we are all entrusted guardians of the sea. We should use Cowes Week as a platform to inspire change and to make positive steps to reduce our impact on the planet.
"As an innovative telecommunications operator, our Sensing Change project was created to measure how we change our habits around single use plastic."