10:45 Monday 1 Apr 2019 Cowes Week Ltd

SailGP Comes To Cowes Week As A Feature Event Of The Regatta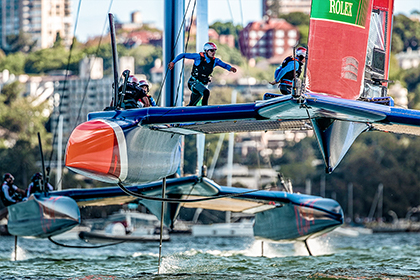 We're delighted to be joined by the all new global sports series, SailGP, during the first weekend of Cowes Week this year. As an Official Feature Event of Cowes Week, Cowes SailGP will bring an added level of excitement to the event with supercharged wing-sailed catamarans close-quarter racing at speeds of up to 50 knots, just off Egypt Point.
The Sail GP series is made up of five international events. Cowes will be the penultimate one before the grand finale in Marseille where the 6 rival nations' teams will be battling it out to win the US $1million prize.
Fans will be immersed in the free-to-access SailGP Race Village between Cowes Green and Egypt Point. For those wishing to get even closer to the action, there will be a ticketed Premier Grandstand offering spectators unrivalled views of the race course.
Rest assured SailGP racing will take place after Cowes Week races (between 3-4.30pm) so there will be plenty of time get in position to watch the action unfold after the regatta races finish!
Kate Johnson, Commercial & Marketing Director of CWL commented
"We are really excited to be featuring Sail GP over our first weekend. We anticipate that this event will bring even more crowds to Cowes and the Isle of Wight to watch the thrilling racing and soak up all the shoreside atmosphere that Cowes Week has to offer"
Laurence Mead, Regatta Director added
"Sail GP is an amazing concept that brings the very top-end of our sport closer to spectators than ever before and pushes the boundaries in innovation in sailing. We're delighted that they've chosen our regatta, the pinnacle of keelboat racing in the UK and one of the world's largest and best known regattas for their UK edition. Foiling at 50 knots right off Cowes Green? Should be exciting!!! I think Cowes Week competitors will love it and they are in for a real treat."
Single Day Tickets: Adult £55 | Child (under 16) £35 Cowes Week competitors receive 10% off this price
Weekend Tickets: Adult £85 | Child (under 16) £59 Cowes Week competitors receive 10% off this price
Family and group tickets also available
Tickets available at SailGP.com/Cowes.