14:20 Wednesday 13 Mar 2019 Mary Scott-Jackson

1851 Trust continues as Official Event Charity for Lendy Cowes Week 2019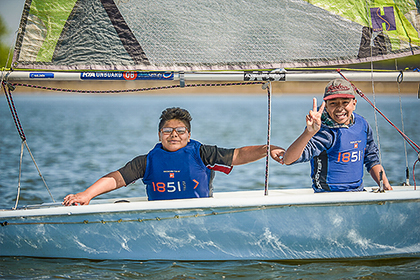 The 1851 Trust's aim is to inspire and engage young people from all backgrounds across the UK to imagine their futures differently. As the Official Charity of INEOS TEAM UK, led by Sir Ben Ainslie, the Trust uses the power of professional sport to inspire the next generation. In 2019, the Trust will be launching a new sailing initiative with the support of INEOS. This programme will provide 6,000 'first-time' sailing opportunities to young people from disadvantaged backgrounds across the country in 2019.
It is widely recognised that not enough talented young people are choosing careers in science, technology, engineering and maths (STEM). The 1851 Trust challenge perceptions and excite young people about STEM through their high-quality education programmes. Programmes like www.stemcrew.co.uk, which is used by over 1,500 teachers and 85,000 students in classrooms across the UK, showcases the cutting-edge innovation and aspirational role models behind the British Challenge for the America's Cup.
The 1851 Trust will be raising money during Lendy Cowes Week which will enable them to reach more young people who would not usually get the opportunity to try sailing. They will be running fundraising activities throughout the week, from family games on The Parade to prize draws for Cowes Week competitors. In the run-up to Cowes Week competitors can offer their support to the 1851 Trust by adding a donation to their regatta registration.
Commenting on the decision, Kate Johnson, Commercial and Marketing Director at Cowes Week Limited, said:
"We're delighted that the 1851 Trust will be joining us again as the Official Charity for Lendy Cowes Week 2019. Their activities last year captured the imagination of many young visitors to Lendy Cowes Week and their aims to expand young horizons are admirable and consistent with our own. We hope that their work will help to engage and inspire a new generation into sailing."
The Trust also runs its Go Sail programme for schools across the Solent area, providing hands-on STEM workshops at the Tech Deck at the INEOS TEAM UK building in Portsmouth combined with a sailing opportunity with partner charities, the Andrew Simpson Sailing Foundation and UKSA. This programme has now reached over 2,671 young people in the Solent area (including the Isle of Wight) since 2017 and they hope to reach a further 900 in 2019.
Rebecca Denny, Fundraising Manager for the 1851 Trust said:
"We are really excited to continue our work with the team, sponsors and suppliers at Lendy Cowes Week as Official Charity for 2019. We brought the excitement of the America's Cup to young people, families and participants during 2018 through our fun activities on The Parade, raising awareness of our STEM work as well as raising money to support our programmes in 2019. We are really grateful to be given the opportunity to continue to inspire thousands of young visitors to the Regatta in 2019."