11:00 Friday 15 Feb 2019 Kristen Lloyd

Chatham agrees further two year sponsorship of Lendy Cowes Week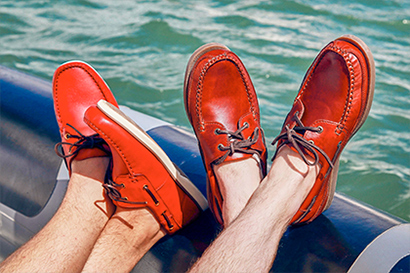 Chatham, the celebrated Great British shoe label, has renewed their sponsorship of Lendy Cowes Week for a further two years. Cowes Week Ltd look forward to welcoming back Chatham, who have been supporters of the regatta since 2013. The brand is an excellent fit for the regatta with their stylish and comfortable footwear popular with sailors and spectators alike.
Philip Marsh, Managing Director of Chatham commented:
"We are delighted to be sponsoring Cowes week for the 7th year running. Cowes Week is the UK's longest running sporting event and we feel that there is no better place for us to showcase our range of deck, boat and performance shoes. Every year there is a wealth of talent on the water and we are so proud to be there from the feet up."
Kate Johnson, Cowes Week Ltd's Commercial & Marketing Director added:
"Cowes Week would not be the same event without the support of our generous sponsors. Chatham have been involved for 7 years and we know that sailors and spectators look forward to finding their range of shoes at their pop-up shop on Cowes Parade. We're delighted that they're returning to the regatta for a further 2 years"
2019 is a big year for Chatham, as the British label celebrates 30 years of award-winning footwear expertise throughout Lendy Cowes Week. As the official footwear sponsor, visitors can enjoy their best-selling collections – complete with special anniversary prices - as well as new limited edition styles designed to mark the important milestone.
Paying homage to Darwin's famous journey of 1831, the Discovery Edit is inspired by HMS Beagle's journey to Chatham Island and showcases the brand's impeccable deck shoe credentials. Chatham has a number of special birthday treats planned, which are top secret for now! However, in the meantime, keep an eye out for Chatham both on and off the waves!